A Pasir Ris-Punggol resident has asked her Members of Parliament (MPs) whether any town council funds were used to engage top lawyer Davinder Singh to represent the town council in their lawsuit against the three Workers' Party (WP) MPs Low Thia Khiang, Sylvia Lim and Pritam Singh.
The three WP MPs have clarified that they have paid for their legal representatives out of their own pocket and out of the funds that the public have donated to them. Low, Lim and Singh added that they have not used any town council funds or even party funds for the trial costs.
The ruling party parliamentarians running Pasir Ris-Punggol Town Council (PRPTC), however, have allegedly remained silent over whether they have used town council funds to hire senior counsel at top law firm Drew & Napier and former PAP MP Davinder Singh to represent their town council in the trial.
PRPTC is run by PAP MPs Teo Chee Hean (Deputy Prime Minister), Ng Chee Meng (Minister in the Prime Minister's Office), Janil Puthucheary, Sun Xueling, Teo Ser Luck, and Zainal Sapari.
Sharing a screenshot of the email allegedly sent to PRPTC by a friend, People's Power Party member Augustine Lee asked whether the town council can use funds as they please without informing residents, if it indeed used town council funds to hire Davinder Singh.
Revealing that PRPTC did not reply his friend for two weeks and that they only said that they cannot comment due to the ongoing trial, Lee further asked whether the town council is required to procure three quotations before engaging Singh and whether the town council breached any rules, if it indeed used town council funds to engage Singh:
"My friend wrote to her town council PRPTC to ask if any funds are used for the lawsuit as they have engaged one of the most expensive lawyer. They did not reply to her emails after 2 weeks. After repeating calling, they said on the phone that they will not reply when the court case is ongoing.

1. Can the TC choose to spend big amount on whatever non estate expenses depending on their own wishes without informing the residents?

2. Can the TC withhold information on big expenses from their residents?

3. Did the TC gather 3 quotations before deciding on which lawyer to choose?

4. Did the TC breach any TC rules and regulations?

Please help to share as we need more accountability in handling of residents money."
In the email, the resident refers to news that PRPTC has engaged Singh to represent it against the three WP MPs as she asked:
"I would like to know whether any of our town council's money is used for the legal fees. If the council's money is used, may I know how much is paid and what is the estimation of the entire legal fees?"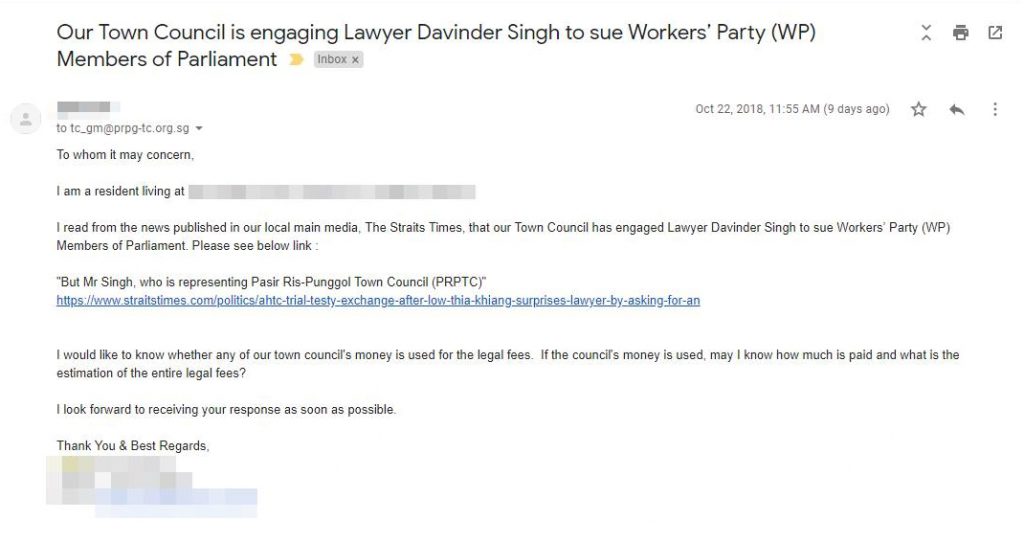 The resident's email to PRPTC comes as the three WP MPs launched a fundraising appeal for help to fight the lawsuits they have been slapped with. The MPs said that they had paid for the costs of the trial out of pocket before the fundraising appeal and that they have not used town council or party funds.
Donations poured in and the MPs closed the appeal just over three days later. The MPs have been faithfully updating the public in how they have paid their lawyers the bulk of the $1.1 million they raised.
https://www.facebook.com/photo.php?fbid=10156472702752819&set=a.10150174179672819&type=3Follow us on Social Media
Send in your scoops to news@theindependent.sg