PAP member Shamsul Kamar has drawn flak for not checking the accuracy of the Tamil words in flyers that he distributed during home visits at the Kaki Bukit division of Workers' Party (WP)-held Aljunied GRC.
Shamsul is one of five non elected PAP representatives/branch chairmen in the opposition-held ward. Three of these five branch chairmen, including Shamsul, faced off against the WP parliamentarians in the 2015 General Election and lost.
The door hanger-style leaflet that Shamsul left at homes in the Kaki Bukit area said that Shamsul came to meet with the resident but the resident was not home at the time of the home visit. This flyer also asks residents to inform Shamsul if there is anything he can help them with and lists his contact details.
The message is printed in the four language of English, Malay, Chinese, and Tamil, in the flyer. The grossly misspelled Tamil translation in the flyer sees many characters switched around that ultimately results in 'gibberish' words that has no meaning whatsoever.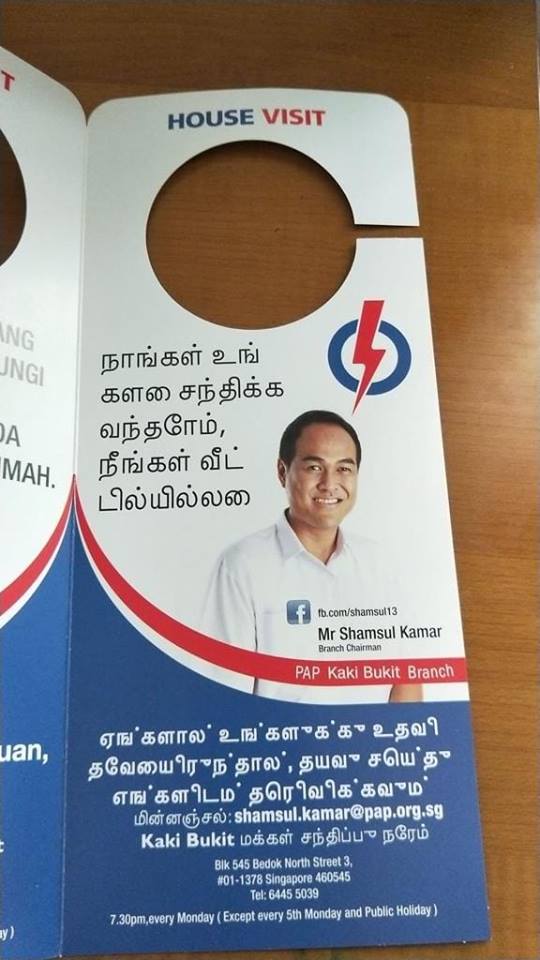 Sharing a picture of the flyer's Tamil page on social media, Facebook user Saravanan Naturopath wrote: "This is an insult to Indians. If you have so much money to print this advise, you could have considered putting the Tamil right. What a shame? You mean you do not anyone who knows Tamil in your circle? What an insult."
Another netizen who shared a picture of the flyer, Facebook user Hairun Bathusha, wrote: "A primary 1 Tamil student can do a better job than Google Translate."
Facebook user Rajeswaran Veerasamy, another netizen who posted the picture, pointed out that this blunder comes as Singapore celebrates her bicentennial history. The sentiments expressed by Saravanan, Hairun and Rajeswaran were shared by several netizens who were shocked by the errors: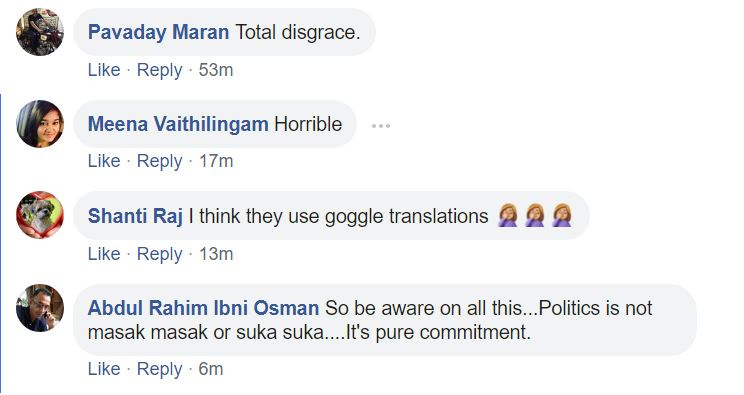 The cause of the misspellings is most likely due to the possibility that the Tamil words were input into the graphic design through a computer that has Microsoft unicode software and the flyer was rendered for print by a computer that does not have the unicode software.
This makes the Tamil characters jump around in applications like Adobe InDesign and other graphic design mediums that are used to prepare such flyers.
This possibility is still not an adequate explanation as to how the errors could escape the notice of the team preparing and printing the flyer or Shamsul's grassroots team and volunteers who distributed the flyer.
It is curious that no one spotted the errors and even more disturbing that Shamsul or his team did not seek confirmation with someone who knows Tamil that the translation is accurate.
This new error could join a plethora of inaccurate Tamil translations made by public institutions in recent years. Following major translation misfires in government materials, an official 11-member Review Panel for Government Tamil Translations convened just last year to put an end to such mistakes.
In unveiling a series of measures aimed to eradicate inaccurate translations, Minister of State for Communications and Information and Health Chee Hong Tat said in January 2017 that the priority is to tighten vetting procedures:
"We will require all government agencies to adopt a more rigorous process to vet and check their translated materials before they are made public."
He had earlier said that such mistakes are "avoidable errors [that] should not have been made in the first place," during budget deliberations in Parliament last year.
Some inaccurate Tamil translations in recent years include:
Senior Citizen Concession Card was wrongly translated to "expired senior kissing generation concession card" in Tamil

Downtown Line station Tan Kah Kee was inaccurately translated as "paan kah kee"
Lau Pah Sat, on a street sign, was translated to "lau pah sani." Sani is a word that can be used to curse others in Tamil.
Tamil translations for Pioneer Generation Package letters to seniors failed when words were found to be 'gibberish'

Almost all Gardens by the Bay signages were reported to be wrongly translated in Tamil.
https://theindependent.sg.sg/ndp-organisers-butcher-tamil-words-in-2017-parade-tickets/
https://www.facebook.com/557161779/posts/10155674018366780/
https://www.facebook.com/photo.php?fbid=10156062227972285&set=a.10150461301862285&type=3
https://www.facebook.com/rajeswaran.veerasamy/posts/2362516527314811Follow us on Social Media
Send in your scoops to news@theindependent.sg