Curious Bishan otters photobombed a couple's wedding proposal photos on Tuesday, November 20. As the couple is fond of otters and went to the Marina Reservoir just to see them, they were otter-ly charmed by the intrusion of the small animals.
Mary Lister and Jordan Doyle, a couple from the United Kingdom, have been visiting different countries and recently came to Singapore. They got in touch with photographer Bernard Seah, who took them to see some otter families in Marina Reservoir, along with some other people.
According to Doyle, his now-fiancee likes otters very much indeed, telling the BBC, "Mary is a huge fan of otters."
Unbeknownst to Lister, Doyle had an engagement ring with him and breaking away from the group during the otter-watch, the couple got engaged.
The couple re-enacted the proposal for photos, curious otters came out and started sniffing around them for a full three minutes, which apparently is very unusual for the animals.
Seah was thrilled to capture the scene and told Doyle and Lister to keep very still.
"When I asked them to pose for a photo, the otters came out of the water and approached the couple. I was like, oh my god, I cannot believe this. I have seen otters approach humans but its never usually for a few minutes… it's never been this long."
The otters in the area are commonly known as the Bishan 10.
Doyle wrote about the proposal on his Facebook page as well:
"So, this morning, being Mary & I's second year anniversary, with the help of Bernard Photojournals, we went otter spotting for the otters originally aired on Blue Planet with David Attenborough. We ran, ran & ran around Singapore bay trying to find them until we did!!!
I have had a ring on me for a while with no idea when or how I was going to pop the question. When we saw the otters at the river eating, I decided to ask for this georgous otter obsessed girl to marry me.
She said yes & has made me the happiest man on earth. Of course, the wild otters were inquisitive & so when posing later on, they came ashore & surrounded us… for three minutes!!! Very unusual they must have known how special it was.
The BBC then got wind & done an article!
To our future. Cheers."
Netizens were otter-ly charmed at the proposal as well, with Doyle responding to some well wishes on Seah's Facebook page.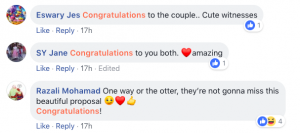 Read related: Bright future ahead for the man who put LED lights on 22 cars to propose to his Girlfriend
Send in your scoops to news@theindependent.sg