The NTUC Fairprice chain of supermarkets has joined the bandwagon of local groups poking fun at a piece of postmodern art that sold for a hefty USD$120,000 or about SGD $163,000 at a recent exhibition. The selling price of the art piece drew widespread attention online since the piece simply consists of a banana that is duct-taped to a wall.
The art piece, called 'The Comedian' by Italian artist Maurizio Cattelan, went on display last week at the Art Basel Miami exhibition and a first edition of the piece was sold for US$120,000. Netizens responding to the post were shocked at the selling price of the piece and commented that the piece makes a mockery of the art world.
Soon after, a video of a man taking the banana down from the wall and eating it as a part of a performance art piece called 'Hungry Artist' also went viral.
NTUC Fairprice is now sponsoring a post on social media pointing out the low price of a bunch of bananas sold on their website, in comparison to the exorbitant price of 'The Comedian':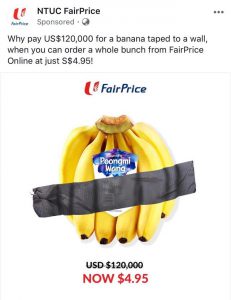 Earlier, a local durian seller capitalised on the viral response to the banana art piece with his own "art" featuring a durian duct-taped to a wall. Mocking 'The Comedian', the 99 Old Trees durian store that is located near Farrer Park MRT station advertised on Facebook on Monday (9 Dec):
"Durian Tape to White Wall. S$163,056. Looks like Art, Smells like Fart. A durian bondage art as a reminder of our forefathers' past struggles. The duct tape signifies the oppression from our colonial past."
The Singapore Civil Defence Force also joined in the fun and posted their version of 'The Comedian', featuring an Automated External Defibrillator (AED) that is duct-taped to a wall. Calling their "art piece" 'The Lifesaver', SCDF humorously advertised the installation of AEDs at HDB blocks:
""??? ????????? (2019)" This 'art piece' does not come at a ???????? price. But, as we always say, you cannot put value to a life saved.
"You may have come across these 'wall art' installations in your housing estates though they are usually safely stowed in metal casings. Automated External Defibrillators (AEDs) are now readily available at HDB estates thanks to the Save-A-Life Initiative, with an AED for every two HDB blocks."
SCDF joins local durian seller in poking fun at duct-taped banana "art" that sold for $163,000