International publication The New York Times revealed yesterday (6 June) that it labelled early PAP leaders, like founding Prime Minister Lee Kuan Yew, as "extreme leftists" in an article published in 1959.
Yesterday marked the 60th anniversary of the date the first cabinet of Singapore were sworn in after Singapore achieved self-governing status, on 5 June 1959.
To commemorate the occasion, The New York Times Archive released a 1959 newspaper clipping covering the swearing-in ceremony. An excerpt of the article, entitled 'Nine leftists form Singapore Regime,' goes as follows:
"Nine leaders of the extreme Leftist People's Action party organized today the first Government of the three-day-old self-governing state of Singapore.
"In keeping with the requirements of a state within the British Commonwealth, they swore allegiance to Queen Elizabeth. But a portrait of the Queen, which only yesterday had a place of honor on walls of the City Hall ceremonial room, was gone."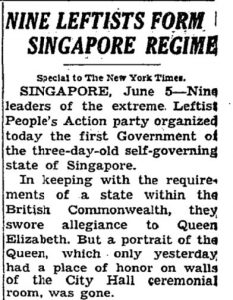 Yesterday, current Singapore PM and the late Lee Kuan Yew's son, Lee Hsien Loong, reflected on the swearing-in ceremony of the first cabinet and said that "the PAP was nearly defeated" during the struggles of the past.
Recalling the Government's "battle against the communists and their supporters," PM Lee also touched on the PAP members who left to form the Barisan Socialis. He said:
"Mr Lee had insisted that the British release eight left-wing detainees from Changi Prison before he would take office. Two years later, all but one of them split from the PAP to form the Barisan Sosialis.

"After the Barisan lost the September 1962 Referendum and the General Election in 1963, we spent two years in Malaysia. Mr Lee and his key colleagues fought tenaciously for a multi-racial society, risking arrest or worse."
Asserting that Singapore would never have achieved independence if it weren't for the support of the Pioneer and Merdeka Generations that "united behind the PAP's leadership," PM Lee said:
"5 June 1959 was one of the milestones that made possible 9 August 1965, and all that followed over the next 54 years. We owe a deep debt of gratitude to this pride of lions who took office 60 years ago, and to the people they led."
60 years ago today, the first government of the 3-day old self-governing state of Singapore was formed. Lee Kuan Yew was made Prime Minister. https://t.co/qF2jQE89Lk pic.twitter.com/sEsKrZYeXv

— NYT Archives (@NYTArchives) June 5, 2019
-/TISGFollow us on Social Media
Send in your scoops to news@theindependent.sg