The opportunities for tech startups to deliver digital financial services are said to multiply
Fintech companies that combine innovative financial service business models with digital technologies are emerging in Southeast Asia in waves.
Fintech is revolutionising Asian banking by modernising cumbersome service channels, creating new ways to borrow money, and bringing in once-excluded customers.
According to the McKinsey Global Institute, the region has around 266 million people, with limited access to basic financial services such as bank accounts, loans, credit cards and insurance. There over 30 million SMEs underserved by the financial system, facing a collective credit shortfall of around US$175 billion.
It is safe to say that the potential market for Fintech in the region is significant.
At Cento Ventures, a Southeast Asia-focused venture capital firm, we focus on the financial technology industry from a broad perspective that includes both companies that are providers and enablers of modern financial services.
When we look for Fintech investment opportunities, our main criterion is the use of technology to enable or to improve a financial event in some way. For example, a software platform that is widely adopted by retailers might create an opportunity for lending to those retailers or for insurance of the goods being traded – perhaps not 'Fintech' in the narrow sense but most certainly an enabler of it.
Fintech in Southeast Asia
In recent years there has been a global trend towards the convergence of finance and IT in the form of Fintech, leading to the emergence of various new digital financial services.
In Southeast Asia, the economy is still in the early stages of digitalization. The total economy of the region is estimated at US$2,900 billion, out of which, only US$50 billion (1.7 per cent) is digital. This suggests that there is a significant opportunity for the growth of digital financial services as the digitization of the wider economy progresses.
Also Read: A decade of innovation: How East Ventures is building Indonesian tech ecosystem from the ground up
Approximately 1,000 companies have been built in the last few years that use technology to tackle some of the challenges in the financial services sector across Southeast Asia. As of now, Singapore remains Southeast Asia's Fintech hotspot with over 490 fintech companies.
However, other markets are also generating interesting startups at a great pace. Today, Indonesia has around 262 fintech companies and is a booming market for digital payments, lending, and increasingly insurance.
Waves of development
The first wave of Fintech to be developed was focused on payments. 2C2P, Asiapay, iPay88 and Codapay are some examples of payment companies built in Southeast Asia. Many of these serve new online merchants, helping them to process payments from consumers.
Alongside this, we saw the creation of many e-Wallets that help consumers to store value and make purchases digitally.
Next came a wave of startups that made it easier to borrow money. The region has seen many online lenders, for example, Modalku and Funding Societies to name a few. These companies seek to help people and businesses borrow money more flexibly and efficiently than from traditional lenders and use technology and data to assess credit-worthiness in new ways.
Another wave of fintech innovation that is getting going and which has considerable potential is insurance. Both online insurance distribution platforms like Indonesia's Cekpremi, and Malaysia's Jirnexu, and direct insurers such as Thailand's Sunday Insurance are growing fast.
We believe that future waves of fintech innovation will not be only about creating additional consumer-facing products but will also address B2B opportunities in areas such as security and data analytics.
One factor to note is the importance of regulation in the financial services sector. Central banks and regulators around the region have established 'sandboxes' designed to allow fintech players to test their services under relaxed regulations. These serve to encourage innovation in a controlled manner.
At the same time, digital financial services remains a highly scrutinised sector. For example, in late 2018 Indonesia's OJK blocked websites and sent warnings to many of the peer-to-peer (P2P) lenders operating in the country in response to complaints about lending practices.
Digital platforms as opportunities for fintech
We believe that there is an opportunity for new digital platforms to play an important role in developing and distributing digital financial services that are tailored to the needs of their users.
Digital platforms enable connectivity, create new ways for people to exchange value, provide enhanced user experiences, facilitate trust between participants and help in data collection. This can lead to opportunities for fintech in areas like travel, logistics, healthcare, and retail to name a few.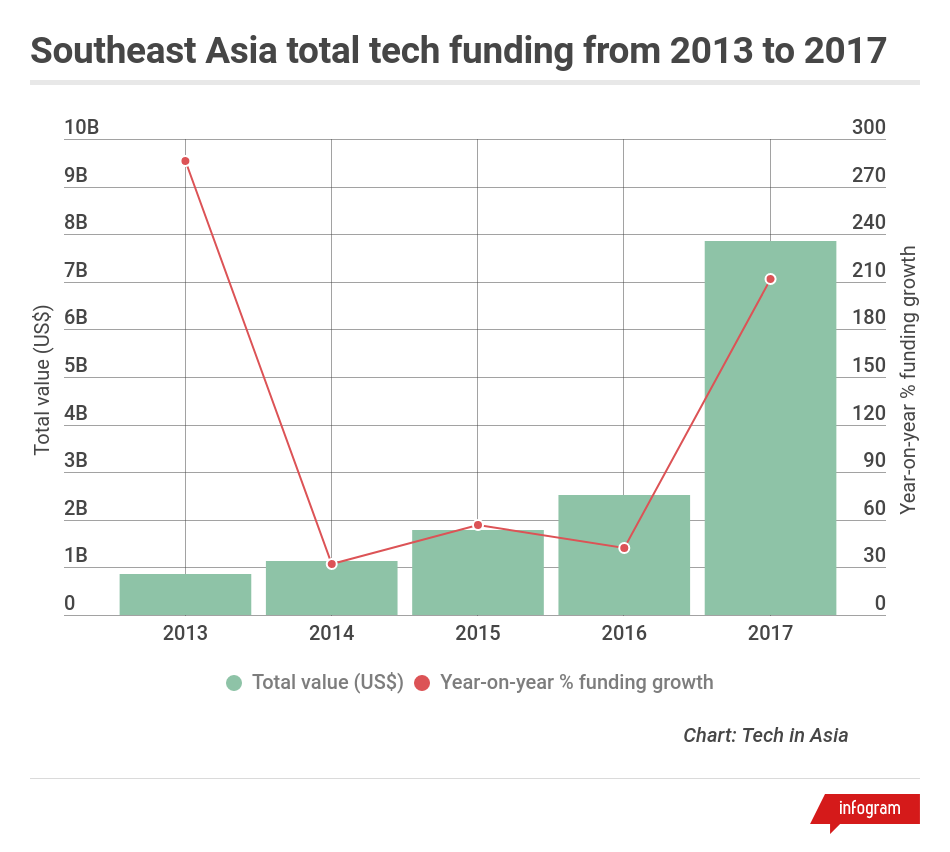 Some digital platforms in Southeast Asia, such as Grab and Go-jek are already offering related financial services that include payments, loans and insurance, both directly and in partnership with others.
Also Read: Need some advice for your startup? Check out these 11 contributor articles
The region is producing other large digital platforms across a number of different sectors, that have, or are building, financial services components to their business models. For example, Carro and Carsome in the automotive sector, PropertyGuru and 99.co in real estate, and Bukalapak and Tokopedia in retail.
Future opportunities for Fintech can be seen in digital platforms that serve various industry sectors which have not yet been materially disrupted by the internet. For instance, if shipping transactions are done on an online platform, then the platform is in a strong position to offer value-added services such as shipping insurance.
Likewise, if students are using a portal to apply for universities, they are likely to require associated services such as financing of school fees. Technology can be used to make these financial services more easily available and, quite often, more cheaply.
Fintech is not only about banks and insurers — many online transactions can have a financial dimension to them. As more and more sectors of Southeast Asia's economy are transformed by the internet, the opportunities for tech startups to deliver the enabling digital financial services will multiply.
—
e27 publishes relevant guest contributions from the community. Share your honest opinions and expert knowledge by submitting your content here.
The post New developments in fintech are hitting Southeast Asia in waves appeared first on e27.
Source: E27Follow us on Social Media
Send in your scoops to news@theindependent.sg