Following the collapse of the façade of a Housing Development Board (HDB) block at Bedok, Workers' Party (WP) secretary-general Pritam Singh took to Facebook to update on the incident as the area in which the block is situated falls under the Eunos Ward of Aljunied GRC.
He wrote, "We had a close shave at Blk 634 Bedok Reservoir Road, in the Eunos ward of Aljunied GRC late yesterday afternoon when a section of the facade of the block suddenly collapsed. Luckily, no one was hurt. Officers from the Building & Construction Authority (BCA) and the Housing & Development Board (HDB) were on site very shortly after the incident.
Mr Pritam continued, "The Aljunied-Hougang Town Council has appointed a Professional Engineer to inspect the affected block and the other blocks in the precinct. Investigations are currently ongoing and the Town Council is working closely with the relevant agencies on this matter."
https://www.facebook.com/pritam.eunos/posts/2057321614290141?__xts__[0]=68.ARBTA2X69lnmlsZpmdCmU-MDblCd5paE-6Y51n9StBw5ZKcj6KHuM1BycL0APU1HSDEvT1qhvpX1CnJjW605Rtmu_tWVP8PwYuUv35V9QMBvGUFRNexEL8EV73g2-yApyPGo7gh83u5q9B3bWaj46qFdyzxXNNYJvoy7vp06AlRSY5cGxWK0gSTrNeVtBPb8UMKmsdMkOb-EWZz9AWQQnBQ9un0&__tn__=-R
Mr Pritam also shared photos of the block and the area that had been cordoned off.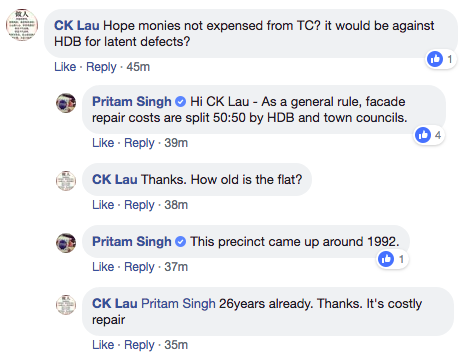 ________________________________________________________________________
obbana@theindependent.sg
Follow us on Social Media
Send in your scoops to news@theindependent.sg