A video has been circulating on the Internet and social media of volunteers from Crisis Centre Singapore, a voluntary welfare organisation, mocking disabled people.
https://www.facebook.com/allsgstuff/videos/458728967980606/
The video has gone viral, with Singaporeans expressing their anger over the video.
In the video, a man whose face is blurred can be seen imitating the way a handicapped person walks and tries to speak and gesture. A woman can also be heard laughing with amusement in the background.
The incident seemed to have taken place at night, at the void deck of a HDB flat. The man was also wearing a t-shirt with the Crisis Centre logo on it.
Earlier this week, Crisis Centre Singapore also released a statement on Facebook apologising for the incident.
https://www.facebook.com/crisiscentresingapore/posts/268611800422662?__xts__[0]=68.ARA8j3ZZZnbYvDq-6FtgfJ3GVDWSUaNQsUtq_CBpzhsbj6q4Ateomyh9ScMZDpWTwFyRNPH0J8xUN-6Dclp8F63fJHqm7U08hRuuTUMIoPVvMoK5cp5iT6yyssp-KaaZQTIqa7I&__tn__=-R
Their statement read: "It has come to our attention through members of the public that some of our volunteers have been behaving in an unprofessional manner. Crisis Centre (Singapore) would like to apologize and reassure members of the public that this was an isolated incident and that we strive to ensure that all interactions with the public are positive."
They also added that, "Our Board, Staff and Volunteers all work hard towards our vision of helping the homeless become self-sufficient. As many local charities rely on the public's support and generosity, we hope that this incident will not affect the public's confidence of legitimate charitable organisations and their fundraising campaigns."
Netizens who commented on the video felt that the man's face should not have been censored, and that he should be shamed for his actions.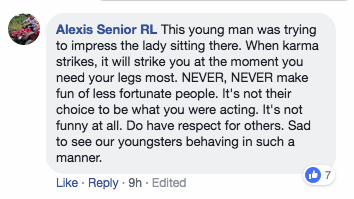 ________________________________________________________________________
obbana@theindependent.sg
Follow us on Social Media
Send in your scoops to news@theindependent.sg 
No tags for this post.