A video uploaded on Facebook has become viral, where a speed-monitoring officer on-duty was taking a video of the pedestrian who was also taking a video of him along Yishun Ave 1.
The video has been shared for more than a thousand times already. The video showed an officer, not on view sitting on a folding chair behind a tree, with a video camera on a tripod used for recording motorists who violate speed limit.
In dark attire and sunglasses, the officer seemed not to be a Singapore police but an outsourced staff. He then did not miss filming the pedestrian when he was being filmed too. The video taker did not dismiss it just like that as he made a U-turn back to continue filming the officer saying, "How can like that?" and the officer in return hurriedly flipped his phone to do the same.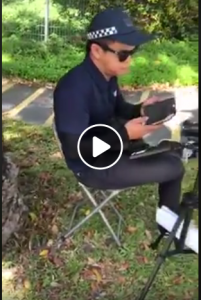 Photo: Screengrab from Facebook
The stretch of Yishun Ave 1 beside Orchid Country Club is one such location that tempted motorists to accelerate; hence, enforcement of speed limit in this area is actively carried out and properly monitored.
One cannot step on the gas as much as he wants as speeding incurs a fine up to $200 and up to 24 demerit points.
Land Transport Authority (LTA) installed traffic speed cameras around the island and enforced speed limits to ensure everyone's safety. Each type of vehicle has a set limit on all types of roads.

Source: LTA
From 2016 up to the present, traffic authorities have been equipped with newer and better technology in order to deter speedsters from driving recklessly along various roads in Singapore.
LTA and Traffic Police, in fact, have put in place five different types of traffic enforcement cameras around the city-state: fixed speed camera, mobile speed camera, police speed laser camera, red light cameras, and average speed cameras.
Just eight months ago, the Ministry of Home Affairs posted a video of the types of speed cameras around the island. This had sparked lengthy comments from netizens. Others gave their suggestions.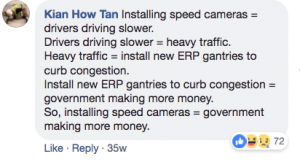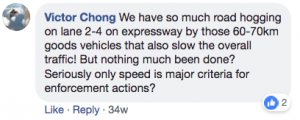 Photo: Screengrab from Facebook/Ministry of Home Affairs
Two years ago, traffic police were on their stealth bikes to catch traffic violators trying to get away, including those who over speed. As what Singapore Police Force (SPF) had said: "The TP will continue to take strict enforcement against such errant motorists even as we focus on education and enforcement efforts; reminding them that all road users have a role to play in keeping our roads safe."
For public's consumption, SPF posted the contact details on their website regarding feedbacks regarding speed cameras.

With the viral video now circulated around the social media world, a lot of netizens were not happy with the act of the pedestrian filming the traffic officer-on-duty. They slammed this person keying in how they felt about it. Most of them empathised the officer, for according to the online users, he was just doing his work.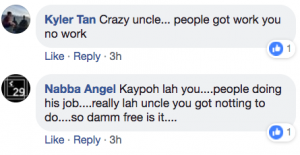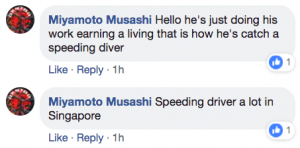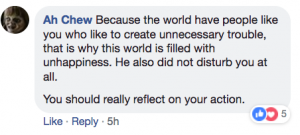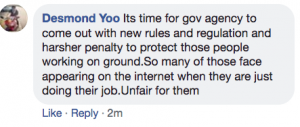 Photo: Screengrab from Facebook
But no one can beat this golden comment of one citizen. And this was a wrap.

Follow us on Social Media
Send in your scoops to news@theindependent.sg