Police acted quickly when a 26-year-old man allegedly molested a female churchgoer or churchgoers at Our Lady of Lourdes on Saturday afternoon, September 29. The man had run from the church and, in an apparent attempt to escape, jumped into the Rochor Canal.
A video captured the incident, showing how a life preserver was thrown to the man, and then a police divested himself of personal belongings and equipment before jumping into the water and holding on to the man, not letting him escape.
https://www.facebook.com/Roads.sg/videos/153789278895417/
The Singapore Police Force said they had responded to a call for help, which came in on 1:27 from 50 Ophir Road on Saturday afternoon. They have since launched an investigation.
In a statement on Sunday, September 30, the SPF said, "A 26-year-old man was conscious when taken to Tan Tock Seng Hospital where he was subsequently arrested for using abusive words against public servant, intentional harassment and drunkenness in public places."
The video has made the rounds on social media and has been viewed more than 200,000 times. Netizens were quick to praise the policeman: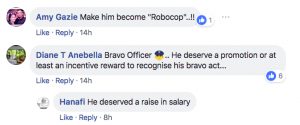 Others were concerned at the rise in cases of molestation:

Yet others were quick to see the humor in the situation: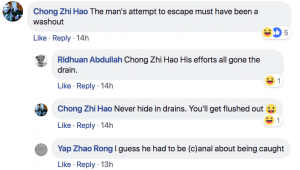 Follow us on Social Media
Send in your scoops to news@theindependent.sg