"Why is TESLA not in Singapore?" It has always been the question asked to the Tesla CEO Elon Musk, and hence, he always has the same response to the people: "(Singapore) Gov't has been unwelcome".

In a previous tweet of Musk in May last year in response to a netizen's urging him to "do something" to allow Singaporeans to get a Tesla, he stated: "We tried, but Singapore government is not supportive of electric vehicles."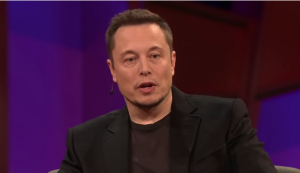 Photo: Screengrab from YouTube
Electric cars have been in the rise for the past years already. In 2017, the world's fleet of electric vehicles grew 54 percent to about 3.1 million.
According to the forecast of International Energy Agency (IEA), the number of electric vehicles on the road around the world will hit 125 million by 2030. That would be 11 years from now.
This could be one of the many reasons why the Singaporeans wonder, how come TESLA is not seen around a first world country like the city-state Singapore.
The Land Transport Authority (LTA) in their end responded that it encouraged the adoption of greener and cleaner vehicles such as hybrid buses and electric vehicles, as part of its approach to "address emissions from the land transport sector and improve air quality".
However, Tesla CEO asserted in response to another tweet about Singapore's economy being "reliant upon fossil fuels" and that the government is against EVs, he said Singapore "has enough area to switch to solar or battery (power)" and be "energy-independent".
Tan Min-Liang, CEO of Razer, a global gaming hardware manufacturing company, did not miss the opportunity to tweet Musk also, saying he is "happy to get a solar or battery outfit" when his company's new South-east Asia headquarters in one-north opens in 2020 to test or showcase the technology. Tan claimed that he had placed an order for a Tesla 3 in Singapore.
It was in 2010 when Tesla Motors opened a sales office but only to cease their operations less than a year later. Forward to 2016, one owner imported a used Tesla Model S sedan from Hong Kong and was unexpectedly slapped with a S$15,000 carbon surcharge fine by the Land Transport Authority (LTA).
In April last year, car dealer Hong Seh Motors has started to import Tesla cars from Hong Kong. Two Tesla models were showcased in the Singapore Yacht Show at Sentosa.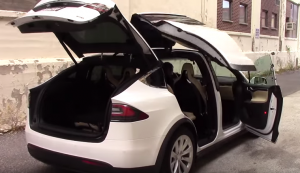 Photo: Screengrab from YouTube
The three Tesla models, Model S 85D, a more powerful P85D, and Model X 75D, all of which are powered solely by batteries underwent homologation by the LTA, before being put on the market for sale.
What the netizens have to say about Tesla's relationship with the Singapore government can give insights on what must be going on beyond the radar of an ordinary citizen.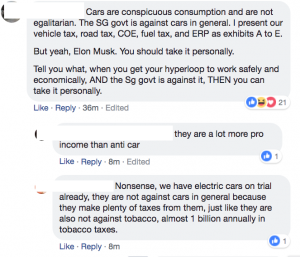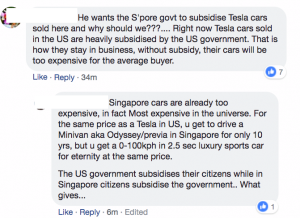 Photo: Screengrab from Facebook
Related Stories:
https://theindependent.sg.sg/ceo-of-tesla-singapore-govt-is-not-supportive-of-electric-vehicles/
https://theindependent.sg.sg/razer-ceo-min-liang-tan-wants-to-bring-teslas-electric-cars-to-singapore/
Follow us on Social Media
Send in your scoops to news@theindependent.sg