This Father's Day, Aljunied GRC's MP Pritam Singh and MP for Nee Soon GRC Assoc Prof Muhammad Faishal Ibrahim met at Nee Soon GRC. It is not uncommon for MPs to hold walkabouts with the people on special occasions and this day was no different.
After the walkabout, both men took to social media with posts about it.
The Workers' Party shared a post with the caption, "Dear Nee Soon, we love you 3000."
Assoc Prof Muhammad Faishal Ibrahim however, wrote a rather sarcastic post that earned the ire of many netizens.
That very day, he wrote, "Been a while since Pritam and his team visited us. Very infrequent in the last year.
Today we came across Pritam and team today, during my walkabout. Said hello.
The last time we saw them in Nee Soon was more than eight months ago – Nov 2018. And before that, we saw them in February last year.
I was with our volunteers greeting residents, and handing out Fathers Day cards".
To Mr Faishal's snide remark came Pritam's reply: "Thanks Assoc Prof Muhammad Faishal Ibrahim. Best wishes and Happy Father's Day once again".

Many who came across Mr Faishal's post called him out for his remark, including Nee Soon residents themselves.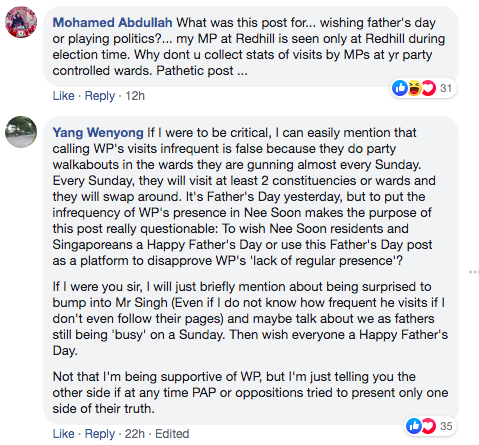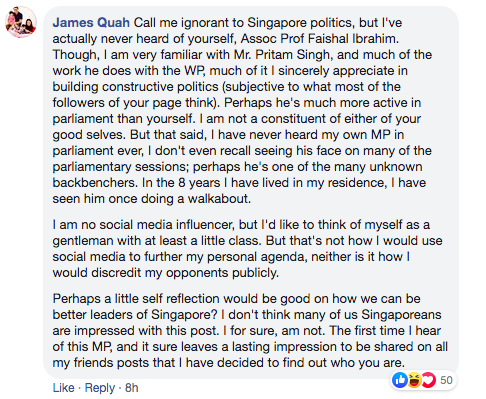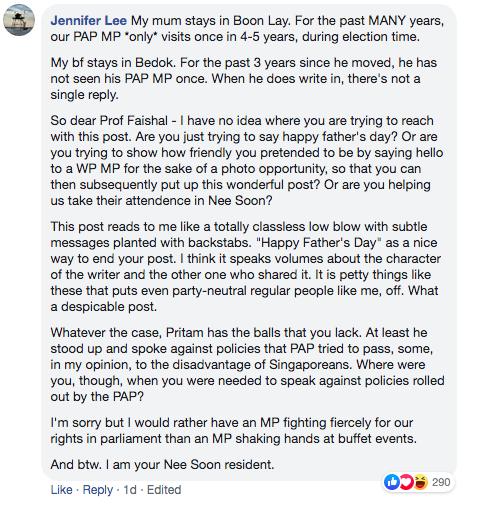 /TISGFollow us on Social Media
Send in your scoops to news@theindependent.sg