The Singapore Islamic Scholars and Religious Teachers Association (Pergas) released a statement on Wednesday, September 19, weighing in on the possible repeal of Section 377A of the Penal Code, which states that sexual encounters between males is a criminal act.
Pergas's statement indicated they are against the repeal, citing that it could "threaten the importance of the traditional family unit as the foundation of a society" which for the group is a grave cause of concern.
"This stand is based not only on religious grounds, but also due to our concern towards moral and social values, that can affect the family institution as well as the fabric of society."
Pergas gave the following arguments for its stand:
One, the family's aim is "to give birth to the new generation, as well as to protect the existence of mankind," which is only possible through  legal union between a man and a woman, which Islam emphasizes.
Two, the statement indicated concern that the "LGBTQ lifestyle" would be affirmed and normalized by the repeal of Section 377A, which Pergas says is in conflict with "the Government's policy of building strong family units to strengthen the fabric of society" and would confuse young people in the aspect morality and values.
Three, the group is also concerned that repealing Section 377A would affect Singapore's population growth, an issue that the Government is also deeply concerned with.
However, the group urged Muslims toward kindness for the LGBT community, and to not exclude or isolate them.
"Our relationship with those from the LGBTQ community, just as how we interact with others, should be filled with mercy (rahmah) as we extend kindness to all," the statement read.
"Pergas sincerely hopes that members of society, especially the Muslim community, maintain good manners and act wisely in discussing this issue. Avoid insulting others, nor belittling others, as well as their opinions."
Several netizens questioned and commented on Pergas' statement, especially in the light of family values.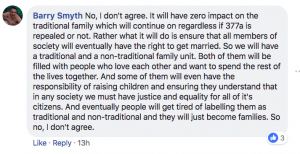 Others urged for the respect for religious differences, as well as respect for the LGBT community too.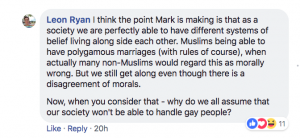 Others seemed resigned that 377A will stay as part of the law

To this, others replied that laws can be changed.

Follow us on Social Media
Send in your scoops to news@theindependent.sg