Upon an invitation from the Singaporean government, several Malaysian journalists visited the country to take a look at its inner workings, including meetings with the Foreign Affairs Minister, HDB minister, and Communications Ministers, a visit to the National Service training site and other such endeavors.
One scheduled activity that the journalists were not keen on attending was a Meet-the-People Session (MPS) with Dr. Maliki Osman, Member of Parliament for Siglap, a multi-ethnic division of the East Coast GRC.
What the journalists thought would be a run-of-the-mill, meaningless speech before a crowd of constituents turned out to be something far more significant and impressive in the eyes of the journalists, one of whom, Chak Onn Lau, wrote a glowing recount of the MPS, and of Dr. Maliki himself, on the website cilisos, which was published on Monday, October 29.
First of all, Mr. Chak and the other Malaysian journalists were surprised at the ease of which the Siglap constituents had access to the MP, writing "Anyone in Dr. Maliki's constituency can get 15-20 minutes of alone time with him." The author narrated how the journalists were allowed to witness Dr. Maliki's meetings with different people, after having been asked not to take photos or reveal any personal information.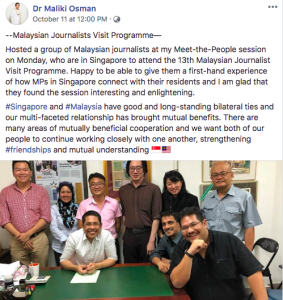 "Each case took an average of 10-15 minutes, with no noticeable hurry in Dr. Maliki's demeanour. He listens intently, asks probing questions, writing notes as he goes along. He then recommends which agency or government department he'll try to appeal to… What also amazes us is the depth of knowledge he has in a variety of subjects, from HDB to commercial to traffic laws."
What's more, the writer noted that Dr. Maliki could converse fluently with the constituents because he speaks English, Malay, Hokkien, and Chinese as well as some Cantonese.
Mr. Chak was amazed to discover that MPS are done just by Dr. Maliki and other MPs but also the Prime Minister Lee Hsien Loong himself.
"Dr. Maliki is there at his MPS office every Monday, seeing anywhere between 20-40 constituents at any session. His volunteers pre-screen these cases, but Dr. Maliki claims to write the appeal letters personally to ministries and government agencies…They ALL do it. And it's not even part of the law. According to two ministers we spoke to, it was a PAP party policy enacted by Lee Kuan Yew himself, in 1963 – to ensure that MPs never lose touch with the people. And yes, his son, the current Singapore PM, still does it."
The practice actually originated even earlier than LKY, since it was started by the country's first Chief Minister, David Marshall.
Mr. Chak was very impressed indeed with this type of intimate, personal consultations, the kind that he believes only happens in Singapore and the United Kingdom.
However, he also wrote that the Singaporeans they asked about this were shocked that they were so surprised at MPSs.
And then Mr. Chak posed a big question, writing, "Should we try this in Malaysia then?"
And he even conducted a poll within the article, asking readers the following question:
Would you bother writing to a Malaysian government agency to complain on an issue?
And then offering the following as options for replies.
YES! And I've gotten a good response from them too!
YES! But they didn't reply
NO. Don't bother, cos nothing will happen
The author also wrote, "So as far as we can tell, there are no MPs in Malaysia that organise such open sessions with their constituents," which he later struck out, adding "OK, so when this article first came out, we started getting messages that some Malaysian MPs do it as well."
To his surprise, Mr. Chak found out that some Malaysian MPs also conduct similar consultation sessions.
"And one particular MP did get in touch, Edry Faizal, DUN of Dusun Tua in Hulu Langat. He runs 'surgeries' every Wednesday for his constituents, and says that most of his colleagues at DAP do the same."
The writer quotes Edry Faizal as saying, "I wear only t-shirt sometimes. Whoever comes for surgery needs to fill up a form stating their problem. After meeting them usually for 15 to 20 min, I will inform the party who's suppose to handle it (mostly councilors) and through the form we keep track on everything. We are still new and improving on our system."
Other DUN MPs also do the same, such as Tuan Rajiv, from Bukit Gasing.
Mr. Chak expressed his delight. "To be honest, this was a pleasant surprise for us, that this is happening in Malaysia!… Some of them (politicians) are really hard-working people, some not as famous as others, trying to make their communities, and the country… a better place."
Read related: How to help the many homeless people everywhere? – Open letter to SM Maliki Osman
Follow us on Social Media
Send in your scoops to news@theindependent.sg