A mother, Ms Low, was enraged and took to social media after no action was taken against the childcare centre, or teacher, who allegedly physically abused her daughter.
The woman initially wrote a post about the physical abuse her daughter suffered in 2018, but agreed to take it down for police investigations.
However, earlier today (August 14), she wrote, "The police just called. They received updates from the AGM, or prosecutor or whoever it is.
They said… NO FURTHER ACTION WILL BE TAKEN TO ANYONE.. IN SHORT.. CASE CLOSE".
She also said that only eight months after her teacher at the childcare centre allegedly hit her daughter, did the police engage a psychologist to interview her daughter. Because of the child's speech delays, she was asked to draw out the events that took place. The mother wrote that her daughter drew herself crying, she drew where the teacher had hit her as well as the teacher's angry face and her classmates' smiling faces.
"It Broke my heart", she wrote.
Ms Low's frustrations were that despite her daughter suffering, there was no verdict, and no outcome.
She wrote, "A dog abuse case.. even got a verdict. A child abuse case, (sic) NOTHING. LOL.. isn't it a joke in our legal system??"
Her post quickly went viral, reaching almost 500 reactions and over 200 comments within a few hours.
At the end of her post, Ms Low expressed how she lost faith in the Singapore police force and in the legal system.
"I am taught since young to have faith in our police force, in our legal system. Today , all my faith is gone.I want everyone to know.. of how our legal system here protects the young.." she said.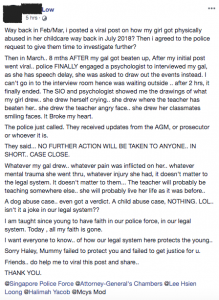 TISG has reached out to Ms Low for further comment.
TISG has also contacted the Singapore Police Force (SPF) for clarification. -/TISG