When hiring a company online, don't neglect due diligence. This is something netizen Eunice Tay found out—the hard way—after paying a very high amount to  Enjoué Events Sg, and getting such disappointing results that she felt her daughter's birthday had been ruined.
Ms. Tay posted her disappointment on Facebook on September 23, telling others not to hire the said events company. She wrote:
"If anyone ever needs to engage an event planner, I'm afraid it must NEVER EVER be Enjoue.
"Their social media is a misrepresentation of what they do for customers, in this case, me in real life. Unless you're an influencer, otherwise, please do not, i repeat, DO NOT ever engage Enjoué Events Sg. But even if you are an influencer, for the sake of everyone, please do not work with scammers like them. You will only make (stupid) people like me fall into their traps and lose your hard earned credibility!
"Also, be warned, they go MIA right after payment is made even if you keep hounding them. When things go wrong, they blame it back on you.
"Thanks to them, my baby girl's first ever party is ruined and the entire experience was a complete disaster. For those who specialise in events and services, you'll know how important customer experience and satisfaction is. In my case, I was fuming with anger and utter disappointment."
https://www.facebook.com/eunicetayy/posts/10156619087843498?__tn__=C-R
Good thing Ms. Tay kept screenshots of her exchanges with the owner of Enjoué Events Sg, a Ms. Bessie Teo.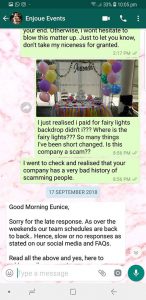 Netizens have been very sympathetic to Ms. Tay, saying she paid far too much for substandard services—decor, service, lateness, etc;—not to mention that Ms. Teo conveniently ignored her calls and went MIA on her many times. Many netizens said they'd heard bad things about the company before.



Another mother commented on Ms. Tay's post about her own unfortunate experience with the company. This mother, did not get her money back from Ms. Teo and filed a complaint with CASE against her.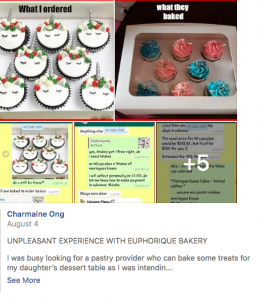 Inadvertently, Ms. Tay found out that many complaints had been lodged against Enjoué Events Sg, Ms. Teo and the bakery she owns as well, called Euphorique Bakery. Some allegations against Ms. Teo are quite serious, such as the ones that state that her bakery copied goods from other companies, and that some employees had not been paid a salary.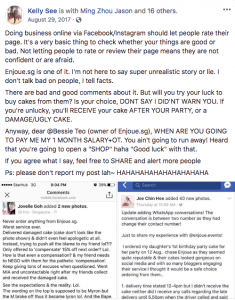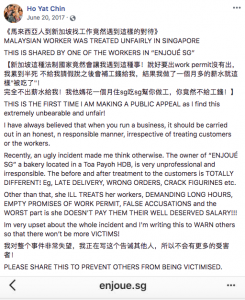 As one netizen said, a company that has no review option on its social media pages should not be trusted.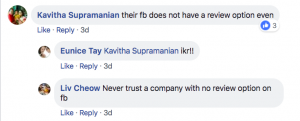 Follow us on Social Media
Send in your scoops to news@theindependent.sg