Since almost three million people in Singapore will be receiving the one-time SG Bonus before the end of 2018, the Ministry of Finance announced yesterday via a Facebook post how to tell if the message that citizens receive concerning the bonus is real or fake.
But by providing only a sample of what real messages would look like, the post left netizens a little bit confused as to what a fake one would look like.
Singaporeans who registered their numbers with SingPass will be receiving notification of the bonus via text message. But in this day and age where unscrupulous individuals may fake notification texts in order to obtain personal information, sufficient warning is necessary for citizens to protect their privacy at all times.
The Ministry of Finance provided samples of what the official SMS notifications of the SG Bonus would look like, both for those who have not yet registered with SingPass and for those being notified of the bonus, but there were no samples or explanation of possible fakes.
https://www.facebook.com/MOFsg/posts/2168000073224249?__xts__[0]=68.ARA7puOHUeZDl-AHyJddin27zjqdBXv3UCQG0kyUtuQjEcqH4dA-tOtf6KT5_dRpcZ0HEnKepnnwKyFgU4AMJO10-1wwNMSYD_L94xZ-CdNhUZ5pP0YuF70kADOY02t5exs3_CyDI8L_Ki_eN0Yt0OKxGo1gAn1qXboeFvxJJ53B-BM8zg4TVbs&__tn__=C-R
Netizens seemed puzzled by the post.



Some asked questions, which other netizens helpfully answered.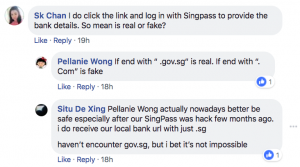 Follow us on Social Media
Send in your scoops to news@theindependent.sg