A man living in Bangkok, Thailand, was called out by Singaporeans after he posted images of a fall and injury he had there which he blamed on the People's Action Party (PAP).
The netizen, Roger Pan, had his post picked up and shared by Facebook page Fabrications About The PAP.
Pan posted images of a fall he had, apparently while walking on a roof and he captioned his post, "Sawadee i thanks my lucky star i did not fall into this dog hole.
#fuckPAP#fuckLHL#humkarchang*O$P$ VTO2019/2020PAPigs — feeling crazy."
https://www.facebook.com/photo.php?fbid=128504661416096&set=a.122291902037372.1073741827.100027696892204&type=3&theater
He also added, "Sawadee im not commiting suicide".
Netizens banded together and pointed out the outrageous nature of Pan's comments.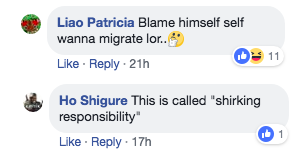 One netizen also suggested that he Pan blamed the PAP because here in Singapore he would never have to fix his own roof and took that privilege for granted.
Besides his injuries while fixing his roof, Roger Pan remained otherwise unscathed.

________________________________________________________________________
obbana@theindependent.sg
Follow us on Social Media
Send in your scoops to news@theindependent.sg