A shocking statement by a professor took the Malaysian social media by storm recently and it is still buzzing on Twitter in particular with some hilarious statements from users and many questions by others.
One Prof Dr Mohd Zohdi Mohd Amin from the Fakulti Pengajian Quran Dan Sunnah at the Universiti Sains Islam Malaysia says dinosaurs are not animals but they are jinns or what the Western world calls Genies.
The comment drew hilarious responses, indeed. But many ignored the fact that scientific and archeological discoveries points to the existence of large animals that roamed the earth.
The prof says he based his conclusions on the hadith which says the Jinn species is made of 3 groups, namely dogs and snakes, and the groups that fly in the air, and also those that settle and move and are destructive.
Some say the hadith is referring to Jinns that take the shape of dogs or snakes as they are shape shifters.
A geologist using the Twitter id @Are_nipt with the calling Kierkegaard says with the credentials of a geologist he can affirm the dear professor is not wrong in his assessment.
bro, untuk mengelakkan prof ni diperlekehkan lagi keilmuan dia. Meh aku explain.

a thread https://t.co/JGTfBXa0xn

— Kierkegaard (@Are_nipt) 9 juin 2019
Those who agree with the Professor says Jinn is just a term used to describe creatures that lives before humans but this did not stem the arguments between the pros and cons of what the Professor stated.
Another user says the Professor maybe right because we do not know if fire for example was in a solid state in the early stages on earth and 'The skin of the dinosaurs the way we know it now is also theoretical."
Sorry but api bkn energy. Fire is an element. Dia mengeluarkan tenaga haba & cahaya itu baru betul. Dan element ni belum fully kita explore. Mungkin api pada masa tu berbentuk solid? Who knows. Kulit dinosaur yg kita tahu skrg ni pun theory je.

— ⱤOBERT DE ƑIRO⚡️ (@itsfiro) June 10, 2019
On Facebook however, a user says: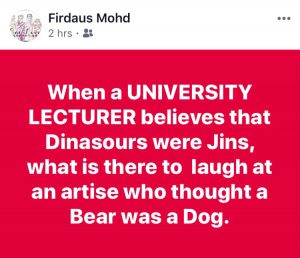 The Facebook user was linking the funny dinosaur story to that of the artist who says she thought a bear she rescued was a dog.
And this concludes the hilarity of the whole situation.
Send in your scoops to news@theindependent.sg