Workers' Party leaders Low Thia Khiang, Sylvia Lim and Pritam Singh have paid the bulk of the $1.1 million, they raised from the public to help them fight the Aljunied-Hougang Town Council trial, to their lawyers as promised.
The parliamentarians' latest announcement comes a week after they appealed to the public for help to fight the multi-million dollar lawsuits they are facing in court.
Writing on their blog, entitled 'In Good Faith,' the three Aljunied GRC MPs shared a picture of their payment receipt to their lawyers and said that they paid a sum of $1 million to their lawyers for their services.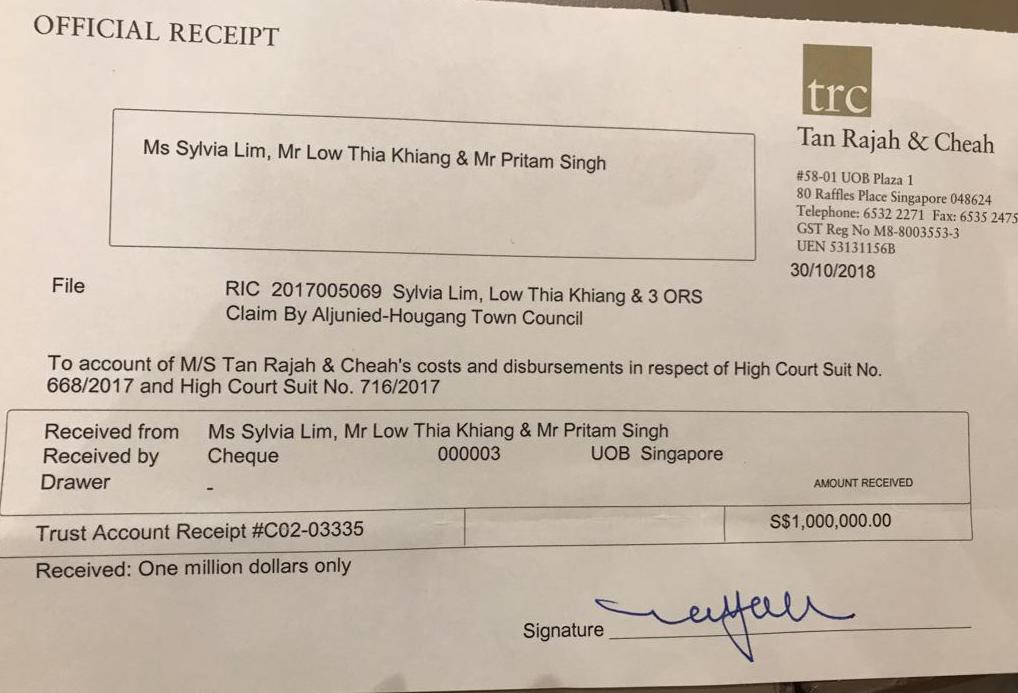 Revealing that they have received $1,130,552.07 as of yesterday evening, the MPs said that the remaining $130,552.07 after payment to their lawyers is kept in their bank account for now.
The MPs promised to regularly update the movements and balance in this account, on their blog:
"Dear Friends

"On 30 Oct 2018, we deposited a sum of $1 million with our lawyers, for payment of their bills. Please see the image of their receipt attached.

"As and when bills are paid from this deposit, we will upload images of the receipts to show the sums paid for specific bills.

"Our public collection to date 30 Oct 2018 at 7 pm stands at $1,130,552.07. With the $1 million deposited with our lawyers, a sum of $130,552.07 will remain in our account to date.

"Sylvia, Pritam and Mr Low

"(please see Account page for updated details on account movement and balance)"
Last Wednesday, the opposition party leaders revealed in their blog that they have "depleted our personal resources," having already paid $600,000 from their own pockets to their legal team as the trial progresses.
Adding that they have not used any party funds, the trio asserted that they are committed to fighting vigorously against the unfounded claims that have been levelled against them.
Shortly after the parliamentarians made their appeal for financial support, many gave to the town councillors and flooded social media with words of encouragement for the three political leaders.
Within six hours of the appeal going live, the public donated $100,000 to the MPs. Within a day, the MPs raised nearly half a million dollars. Within two days, over $900,000 had been donated to the MPs by thousands.
By the time the MPs closed the appeal, they had received SGD $1,008,802 from over 5000 donors. Donations kept pouring in though, and the MPs raised a total of $1,130,552.07 as of yesterday evening.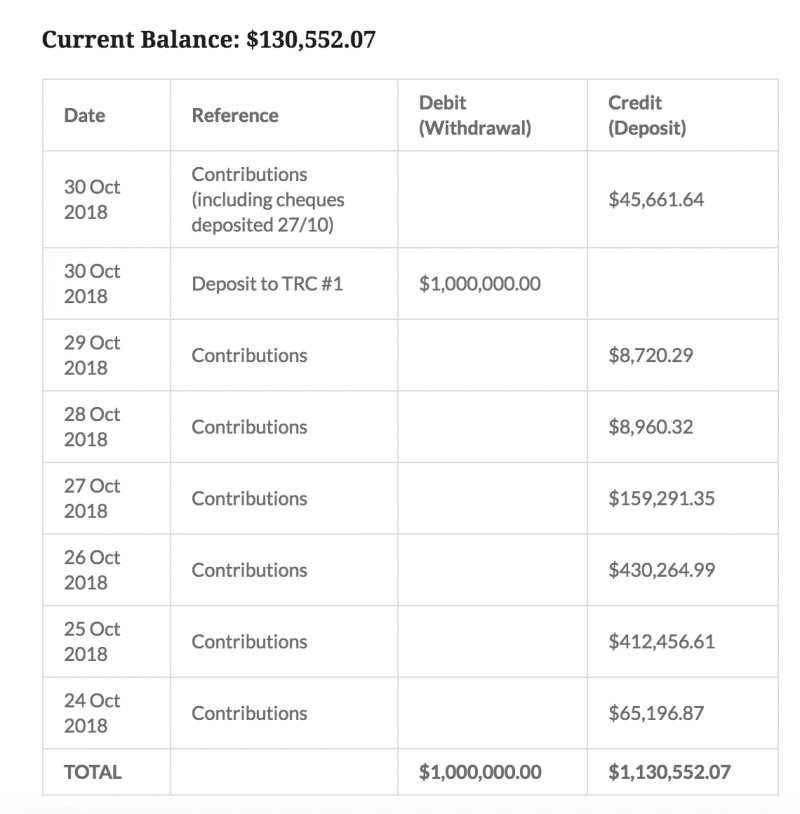 https://theindependent.sg.sg/wp-mps-put-an-end-to-financial-support-appeal-after-raising-over-1-million-in-three-days/Follow us on Social Media
Send in your scoops to news@theindependent.sg