London-born Singapore DJ Ye Ming Yuen, 29, was sentenced to 20 years in jail and 24 strokes of caning for drug offences. UK media The Daily Mail and The Independent reported that a "major diplomatic row" has been created between Singapore and the UK because of clashing views regarding punishment.
Back in August 2016, DJ Ming, a resident DJ at Zouk Singapore, was arrested for drug offences and even drug trafficking. He is currently being detained at Changi prison. DJ Ming was first sentenced with the death penalty but it was dropped to 20 years because the net weight of the drugs involved was less than 500g. In addition to a lengthy period in jail, he is also facing a corporal punishment of caning. The convict will be stripped naked and tied to a large wooden frame. From there, he will be flogged at the bottom 24 times with a rattan cane 4 ft long.
Before he was a DJ
Ye Ming Yuen was born in London and went to a prep school in South London before transferring to the prestigious Westminster School. He was a top student who eventually fell with the wrong crowd. Before moving to Singapore in 2007, he was wanted for forging fake documents and selling them to pupils.
Surprise caning in the cell
According to Yuen's younger sister, prison guards would make surprise visits to her brother's cell and try to cane him. When Yuen shouts that what they were doing were against his human rights, they would leave. This happened periodically with authorities barging in without warning in order to inflict the punishment. The suspense sparks fear and mentally tortures the prisoner because he has no idea when he would be caned.
UK's response
On January 10, Yuen's family made an appeal to authorities and said that the caning sentence was "barbaric" and "a form of torture". They are begging for Singapore to grant clemency to their son.
Meanwhile, the Foreign and Commonwealth Office (FCO) has confirmed that Jeremy Hunt, the Foreign Secretary of Britain has met with his Singaporean counterpart, Vivian Balakrishnan, to intervene with Yuen's case. According to the FCO, they 'strongly oppose the use of corporal punishment such as caning." Other bilateral economic and trade matters between the UK and Singapore were also on the list of activities lined up for Hunt's official state visit in Singapore.
Yuen's story was posted in Singapore Matters Facebook page recently and there, received much attention from the online community. On its post, Singapore matters wrote:
https://www.facebook.com/SingaporeMatters/posts/2001852149901168
Peter K C Lim agrees and even mentions the popular saying, "When in Rome, do what the Romans do".
Daniel C Long is reminding everyone of what the word "punishment" means and that it is only normal that there is some form of torture involved.

It turns out that the idea of caning first came from Britain as mentioned by Kuppusamy Chinnappa.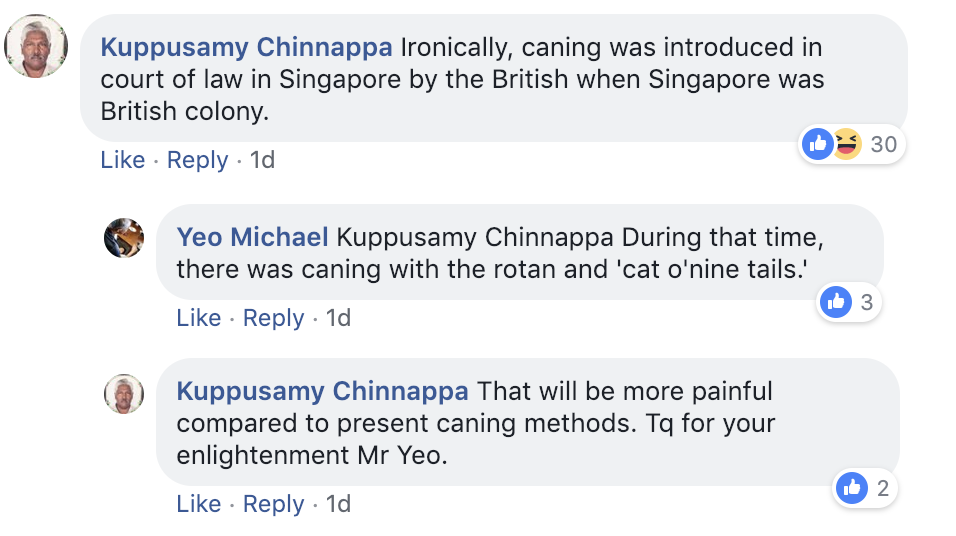 Others are just asking for the foreign country to respect Singapore's laws.

Follow us on Social Media
Send in your scoops to news@theindependent.sg