Some things are definitely free in this world, such as money. A local startup, RateX, gave out money to those who took a photo and shared it on Instagram with their hashtag #TakeAdvantageOfUs.
On January 23, RateX had a booth for the College of Science Day and NBS Retro Fiesta 2019 at Nanyang Technological University (NTU).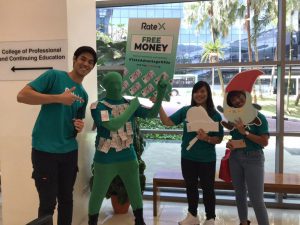 To really prove that there was indeed an advantage of using RateX when shopping online, the startup gave out money directly this time. With a mascot with money plastered all over his body, NTU students had to take an Insta-story with the hashtag #TakeAdvantageOfUs that featured the mascot, and tag the start-up's official Instagram account (@ratex.sg). Only then were they paid SGD2.
Unexpectedly, the response of NTU students was overwhelming. They did not miss the chance of taking and sharing the story, and being $2 richer for that day.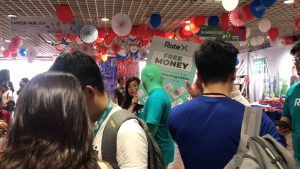 One of the students who participated in the #TakeAdvantageOfUs campaign,  Almeric Tang, said that the publicity stunt of RateX was "pretty interesting since it helps you to save money anyway so you should take advantage of them."
With the fun it brought during the event, Tang wanted the campaign to go viral and for RateX to "do more publicity stunts and give more money in the future."
RateX is a free browser extension that automatically provides shoppers with the lowest exchange rate at no transaction fee for overseas purchases through e-commerce platforms.
Developed by the Singapore start-up Rate, it is considered as a smart shopping assistant where online consumers pay less both local and international online shops. These include Amazon, Agoda, Expedia, Lazada, Shopee, Klook, Kkday, Colorpop and 100 more merchants.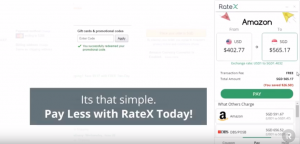 Another way of saving money through RateX is their cashback scheme, earning back the dollars that you have spent through their Clovers which you can redeem for cash, cryptocurrencies, gift cards, or even miles.
Jake Goh, CEO and Co-founder of Rate, said "Our users can now save up to twenty percent on their purchases from their favourite websites. We are achieving this while bringing affiliate sales to our merchant partners; a win-win situation for all. By doing this, we hope to enhance global cross-border commerce while helping Asian consumers get a great deal."
Follow us on Social Media
Send in your scoops to news@theindependent.sg