Local artist Yip Yew Chong has done it again. The accounting-graduate-turned-mural-artist has not only graced the walls of Pagoda Street in Singapore Chinatown with Mid-Autumn Festival paintings, but has invited the public to witness the process in the past few days.
Mr. Yip has gained considerable acclaim since 2015, when he first made a mural for Raffles Institution. Since then, the 49 year old graduate from Nanyang Technological University's works can be found at Waterloo Street, Everton Road, Tiong Bahru and other places.
The amazing thing about Mr. Yip is that he has never been formally taught as an artist though he has been drawing all his life, with his earliest memories of using color starting from the time he was in kindergarten.
This year, Mr. Yip announced that he was starting murals anew via his Facebook page on September 10, with this photo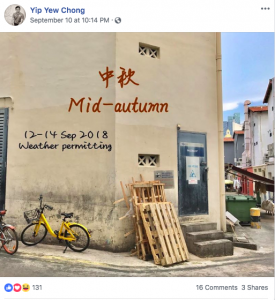 On September 14, he posted a photo of the first completed mural, but with the caption "Need another day ????. You can watch me complete this painting tomorrow at 83 Pagoda Street (alley behind Lucky Chinatown) #heritagemural #chinatownsg  #midautumnfestival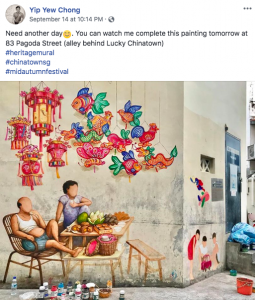 And sure enough, crowds came the next day to see the artist at work.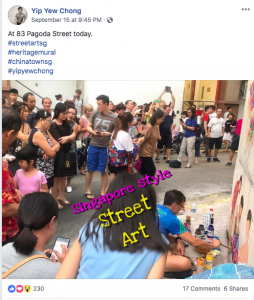 By the next day, the artist was done. Netizen Richard Lee posted photos of both the crowds and the finished paintings on Facebook, showing Mr. Yip's beautiful work. Mr. Lee's post has been shared more than 150 times.
Mr. Yip's other artwork can be seen on his blog and Instagram account.
Netizens have been highly appreciative of the artist's latest works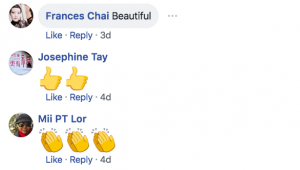 https://www.facebook.com/richard.lee.313924/posts/10156873838358081?__tn__=C-RFollow us on Social Media
Send in your scoops to news@theindependent.sg