On Monday, October29, Lim Tean, once the leader of opposition National Solidarity Party (NSP), announced via his Facebook page that he has set up a new political party, People's Voice.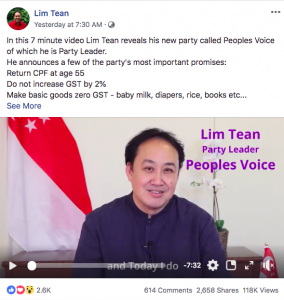 People's Voice is now the eleventh political party in the country.
While the number of members of People's Voice is yet undisclosed, Lim has said that more than 500 people are interested in joining the party, saying, "We will formally approve and admit them into the party later on."
Lim has also expressed that People's Voice will not follow the structure of more traditional political parties. "I am the party leader, but we do not have the secretary-general position in the party. We are doing things differently."
He also said that "secretary-general" is an "old-fashioned and almost communist term".
In his Facebook video, he announced the following as promises that his party is making:
Return CPF to citizens age 55

Not to increase GST by 2 percent

Make basic goods zero GST – baby milk, diapers, rice, books, etc

Slash Prime Ministers' pay by 70 percent

Introduce a Living Wage

Bring in a Direct Democracy which involves Referendums

Look into the true accounts of Temasek and GIC's.

Address the HDB ownership/tenant situation

Call for a Referendum to overturn the Elected Presidency and cast fresh votes for a new one.

Break-up the monopolies that do not serve Singaporeans (Real Estate, Telco's, Banks, Supermarkets etc)

Protect Singaporeans and New Citizens jobs

Scrap the PAP's march towards a 10 million population

Examine recent water, electric and transport hikes and dial back and reduce where necessary.
Read related: Lim Tean calls out Heng Swee Keat on the government's efforts to reduce inequality
In the video, Lim also states that he did not form People's Voice to act as a check-and-balance to the PAP, but to actually form the government.
"It is evident the PAP are long past caring for our people and their lease on possession of their office must be brought to an end. I want to assure you that there is not a single mess the PAP has made that we cannot undo," Lim said in the video.
In May of 2017, Lim resigned from the NSP, stating then a "fundamentally different" approach to politics between the NSP and himself.
In July of this year, Lim's new party, which was still unregistered at that point, met with six other political parties to talk about the possible formation of an opposition coalition to contest in the next general election, to be held by 15 January 2021.
Felix Tan a political analyst and associate lecturer at SIM Global Education called the formation of People's Voice a "bold move." "We need to examine whether, firstly, Singaporeans are ready for a new party with little or no experience or success in political ambit to come into the fore," he said.
Dr. Tan predicted that the party "will definitely be able to garner some influence within the short term, but with little experience, it might be challenging for them to attract a decent support to enforce any change within our political atmosphere."
Send in your scoops to news@theindependent.sg