The Abuse of Process Rally held Jan. 26 at the Hong Lim Park, would never be completed without the presence of socio-political activist Leong Sze Hian, who demanded transparency and accountability from the government regarding expenditures.
In his 10-minute speech at the rally, he did not fail to question the government's expenditure on social welfare, CPF, public housing, and healthcare.
Leong also has his stand on the issue of CPF retirement savings scheme, he questioned, "Where is the transparency?"
One of the problems confronting Singapore society is the housing. Housing and Development Board (HDB) was also criticized by Leong for not being upfront with Singapore's population, despite being persistently asked to reveal the breakdown of HDB flat costs.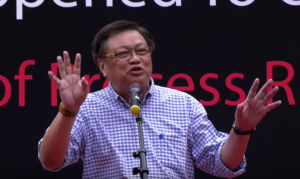 He threw this question:
"HDB, they tell you every year the more flats we sell, the more money we lose. What is the break down of the HDB flat price into construction costs and land costs? So many times, it has been asked in the newspaper forum pages, in social media, even in parliament. Have an answer or not? Don't have."
With regards to healthcare, Leong attacked the government on its failure of assisting the people in times of need. He cited a situation of how MediShield Life insurance was not able to pay the eye surgery costing to thousands of dollars of an elder Singaporean as he was only eligible to use S$4.50 from it.
To help Singaporeans cope with high and rising healthcare costs, Leong proposed that health insurance MediShield Life and forced savings scheme Medisave should be improved.
"This is the symptom of a healthcare model where the inflows exceed the outflows. Your Medisave contributions every year plus the interest on all your Medisave balances exceeds every year total government operating healthcare expenditure plus all your withdrawals from Medisave for medical expenses and premiums. So, in each of these 3 areas, the government is not spending enough money on you."
Over the past ten years, Leong said, there is a S$180 million in budget surplus accumulated by the government.
With his speech, Leong stood in his arguments that Singaporeans are the most taxed, least-helped people in the world.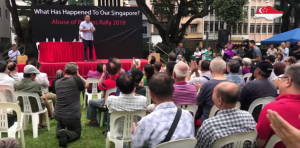 Sued by PM Lee for alleged defamation, he brought his voice in front of the rally attendees.
Nevertheless, he was grateful for the messages of support and encouragement that he received coming from thousands of people. He related this to his age in a witty remark:
"You know when you are senior citizen at 65, all this helps a lot. Because cannot sleep at night, you read all these messages of support and encouragement, fall asleep very fast."
A few days ago, Leong, represented by Lim Tean, applied to the High Court to Strike Out Prime Minister Lee Hsien Loong's Defamation Action against him.
It was in November last year that PM Lee filed a libel suit against Leong. The latter shared an article on Facebook alleging that Lee had helped Malaysia's former premier Najib Razak to launder money from the country's state fund 1Malaysia Development Berhad (1MDB).
Follow us on Social Media
Send in your scoops to news@theindependent.sg