Singapore – It was only in November last year when the late Lee Kuan Yew's youngest son, Lee Hsien Yang was seen having breakfast with Dr. Tan Cheng Bock, a former presidential candidate and founder of the new political party called Progress Singapore Party.
Amidst speculation that the two are forming an alliance, the two were seen once more sharing a meal together on February 2, 2019 (Saturday) at Teck Ghee Market, thanks to an anonymous tip sent to The Independent Singapore. They were joined by four other men, presumably Dr. Tan's trusted advisors. During their meal, the men were approached and greeted by the members of the public and asked to take some photos.
Last November 4, both Lee Hsien Yang and Dr. Tan Cheng Bock were seen having breakfast at a famous hawker centre in Blk 726 West Coast Market. Dr. Tan gave an update on the encounter via a Facebook post and said: "It was a good breakfast, not only the food, but the sharing we had on world affairs and the current state of politics in Singapore."
https://theindependent.sg.sg/tan-cheng-bock-and-lee-hsien-yang-have-breakfast-together-at-west-coast-hawker-centre/
Lee Hsien Yang has publicly shown his support for Dr. Tan and believes that he is the "leader that Singapore deserves." He added in his Facebook post on January 24 that he has known Cheng Bock for many years and "he has consistently put the interests of the people first." Lee Hsien Yang considers this a fortunate event that Dr. Tan has stepped forward to serve the country. More on the recent on goings between the two men can be read below:
https://theindependent.sg.sg/calls-for-lee-hsien-yang-to-join-forces-with-tan-cheng-bock-continue-to-resound/
With the possible alliance being forged between the two prominent political figures, netizens are showing their support and even encouraging the two to "join hand-in-hand" in making a better Singapore.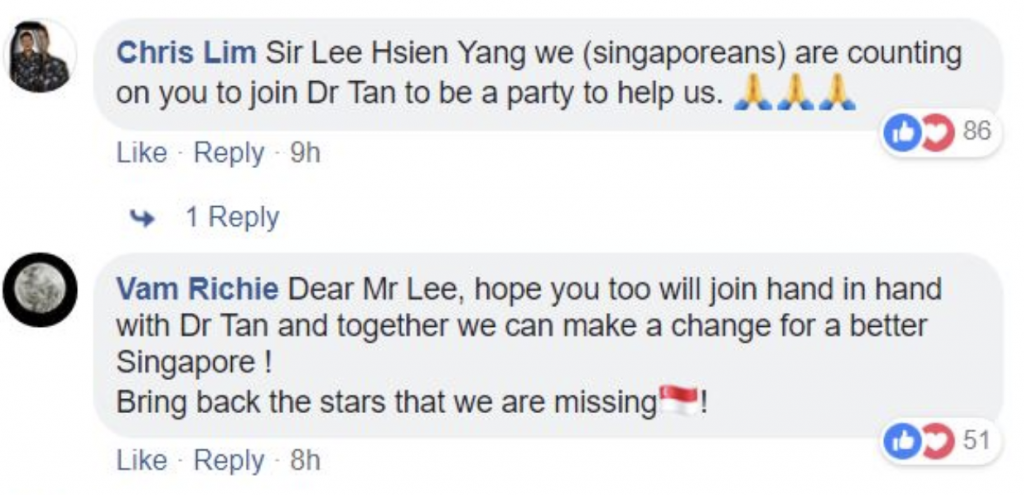 Follow us on Social Media
Send in your scoops to news@theindependent.sg