Malaysia – Micro Teh shared via her Facebook account on January 7, about her very alarming experiences with a housemate named Issabelle who was using her room as a shelter for garbage, dog poop, and a lot of cockroaches.
With the trending KonMari method of organising and tidying up introduced by Marie Kondo comes an incident that might make even Kondo-san run for the hills.
It all started with a change in behaviour. About two months ago, Ms. Teh noticed Issabelle was eating her meals downstairs instead of in her room. Ms. Teh also noticed a foul smell surrounding Issabelle every time they crossed paths and saw that her hair was always greasy. Ms. Teh and her friend Nobu Wewe thought that Issabelle merely had a serious hygiene issue which could lead to a very dirty room and since they were planning to move out soon, didn't bother confronting her about it.
It turns out that more trouble was on its way. Two weeks later, they noticed an increase of cockroaches in the house. Ms. Teh assumed that it was because of the recent rainy season that made the cockroaches take shelter in their house. But something was off, the cockroaches were coming from upstairs. It had a source. After being assaulted by a huge cockroach as she left her room, Ms. Teh reached her limit. Turning to their group chat for tenants, she inquired about the current events and if others were bothered by the cockroaches. Ironically, even Issabelle shared her complaints about the pests but suddenly left the chat and went missing; much to her housemates' suspicions. They decide to check the suspect's room, or at least it was supposed to be a room.
There was trash everywhere. Stains and dog poop could be seen on the mattress. Discarded food boxes which most probably housed maggots already were piled up on the floor. Lastly, it was as if someone sprinkled potpourri on the room but instead of scented petals, cockroaches were used. Nobu was gracious enough to share a video of the disturbing discovery.
BREAKING NEWS!!! The LATEST update from our Isabelle kingdom

Posted by Nobu Wewe on Monday, 7 January 2019
The post was created in order to warn others, especially landlords and tenants, about the possibilities of a similar situation happening to them. Read the full post here:
https://www.facebook.com/MiloChocolateTeh/posts/10215654974300430?__xts__[0]=68.ARBLhZSFti59ZXgYh79y0xmVsX8me9nOwvAkuL7k4zdW9KPiu4AHPylHkiYOhi-Kq7PKv21Aie0JiNiN4mtWj_gngPZWp-CsZ9DWGZqxMdGcQp4bkysuzGvqhartpH_8t5UMP4_reIvTKYvGQtZA6LfVuyB3i7_2kuna42xCPJt8WSd6PhmZp_u-Wu1BakQbOnnxpuyRi40dCohNng&__tn__=C-R
Update
Sadly, Micho Teh has gotten sick because of the stressful situation she is in. Aside from the toxic gas and disgusting smell, she is also being bombarded by netizens who are either asking about the identity of Issabelle, shaming her for posting something like that or for not helping her out. She makes sure to be very vocal and detailed about her explanations and reasons. Read about her posts here: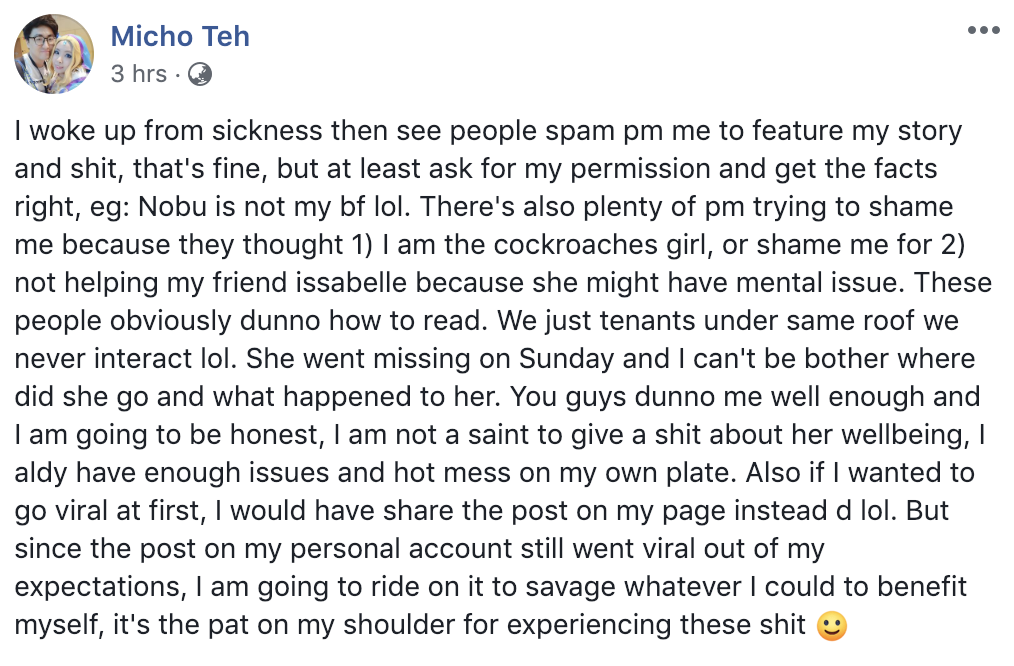 Even Nobu Wewe has shared that he has gotten accusations from netizens stating that the whole thing was fake and invented in order go viral. He explains that no one ever wishes to experience something like that yet he understands that there will always be people who have other thoughts on social media.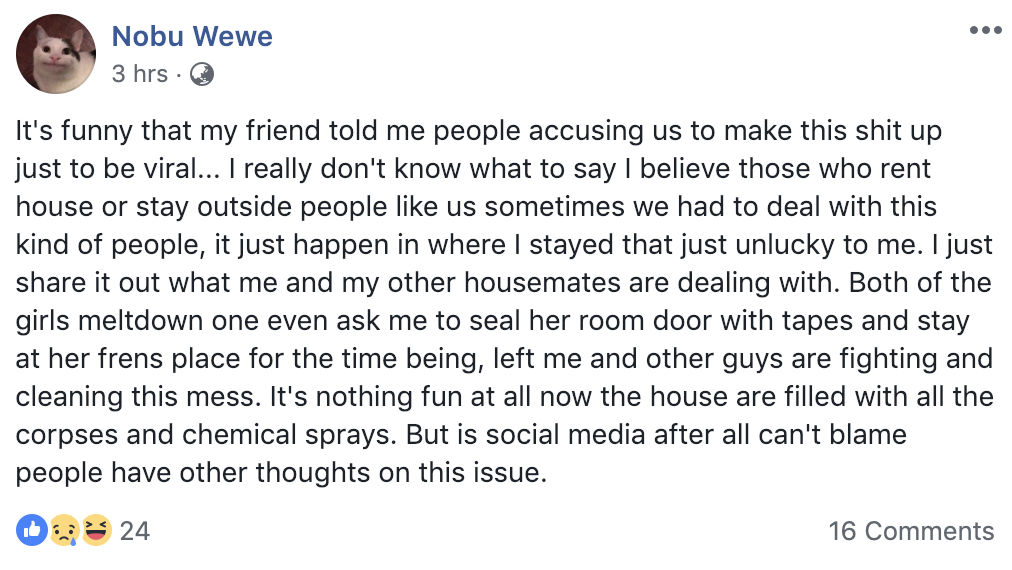 This turn of events definitely went viral across all social media accounts of those involved. While most were disgusted and were at a loss for words, some were able to empathise with the housemates.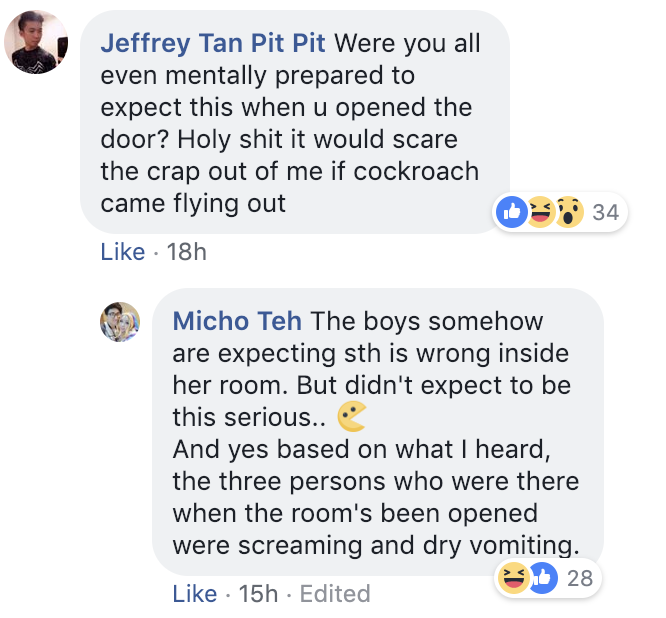 Roland Chua also suggests that this is no longer a "logical" issue but is related to mental health and he wishes that help could be given to Issabelle.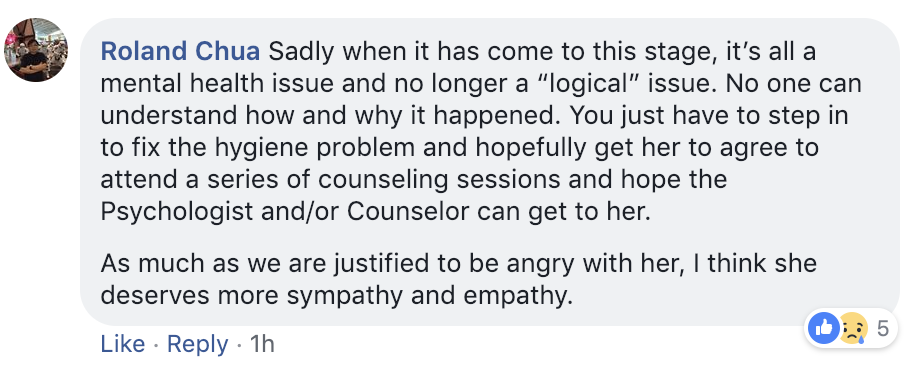 Follow us on Social Media
Send in your scoops to news@theindependent.sg