Jared Leto, the actor who played Joker in Suicide Squad reportedly felt 'alienated and upset' when Warner Bros. chose Todd Phillips' version with Joaquin Phoenix instead.
As Todd Phillips's version of Leto head towards grossing more than $700 million worldwide, insiders revealed that Leto's frustration was so great that he tried to intervene the rival Joker at the start.
The Oscar-winning actor not only complained bitterly to his agents at CAA when he learned of the Phillips project but asked his music manager Irving Azoff to call the leader of Warners parent company with the idea to get Warners to kill the Phillips film.
A representative for Leto denies that Leto made this request while Azoff declined to comment. Leto and Azoff have since parted ways.
The Hollywood Reporter reported that Leto who played Joker in 2016's Suicide Squad thought Warners had strung him along with promises of his own Joker stand-alone film but they went ahead with Phillip's version with Joaquin Phoenix instead.
Warners thought that the Phillips project would be a small one and was nervous about its dark tone. The film had a small budget that some staff at the studio hoped that would discourage Phillips from making it.For the Suicide Squad version of the DC villain, Leto put a lot of effort into his character, using rotting teeth, bloodshot eyes and slicked-back neon green hair.An insider said the studio wasn't happy with these efforts. The director was also not pleased with the resulting performance.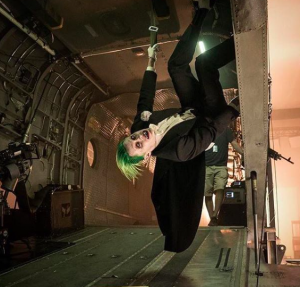 During David Ayer's final cut, Leto's Joker only got 10 minutes of screen time.
Leto spoke to media about how much footage of his Joker had been cut.
"In his defense, it was never really his movie, but his attempt to 'invent' a place for himself in it backfired," says an insider involved in the situation.
Even then, Leto's rep says the actor is happy working with Warner Bros, and he is currently shooting John Lee Hancock's Little Things co-starring with Rami Malek and Denzel Washington.
Leto's unhappiness over the Phillips project ended the already strained relationship between Leto and CAA.