PKR president-elect and Pakatan Harapan's prime minister-designate Anwar Ibrahim has claimed victory in the Port Dickson by-election, defeating six other candidates to represent the people of Port Dickson, Negeri Sembilan in the Malaysian parliament which will reconvene on Monday, 15 October. The 71 year old seasoned politician clinched the parliament seat after two grueling weeks of intense campaigning that had culminated in him securing a majority of more than 23,560 against his closest rival Mohamad Nazari Mokhtar-PAS at 7,456 votes.
This latest Malaysian by-election for the parliament seat of Port Dickson (there has been four by-elections since the 14th general elections had been held back in early May, three for state seats in Selangor and one for parliament in Negeri Sembilan) is the fourth election win by Pakatan Harapan. This meant that the Pakatan Harapan has not lost a single seat it had won during the 14th general election even with the Election Commission having to call by-elections.
Through its coalition member party of PKR, Anwar Ibrahim has given Pakatan Harapan a clear legitimate mandate to continue to lead the country with a majority than exceeded the one it attained during the 14th general elections. Pakatan Harapan's Danyal Balagopal Abdullah had won Port Dickson with huge majority of 17,100 back in May, a parliament seat that had been a Barisan Nasional stronghold through its Indian-based component party MIC prior to the 12th general elections in 2008.
With the earliest, unofficial results trickling in at about 7.30 pm, The PKR leader had already secured more than 25,000 of nearly 37,000 votes counted. The Election Commission had estimated a turn-out of 70% but at 5.30 pm closing time, it had informed the press that only about 50% of voters had turned up at the 32 polling stations all over the five state seats of Linggi, Chuah, Lukut, Bagan Pinang and Sri Tanjung that made up the Port Dickson constituency to cast their votes. The Port Dickson constituency has about 75,770 registered voters, with army and police personnel along with their spouses casting their votes earlier on Tuesday, 9 October.
UPDATED 9.30PM | Official: Anwar wins PD by-election with bigger majority than GE14 https://t.co/vhrXaloPDB pic.twitter.com/aqFMQzRakL

— malaysiakini.com (@malaysiakini) October 13, 2018
Polling day on Saturday, 13 October had begun with a gloomy sky due to a light shower that had fallen before 8 am. And by 1 pm, voter turn-out had stood at only 40%. When asked by members of the press about the low voter turn-out, Mohamad Nazari Mokhtar-PAS who was trailing far behind Anwar Ibrahim with nearly 7,000 votes had lamented that many voters may had been unable to return home to vote due to lack of funds for transportation and the prime minister Mahathir Mohamad reneging on the Pakatan Harapan's promise to abolish highway tolls. He accepted Anwar Ibrahim's victory with an open heart, saying it was all God's will.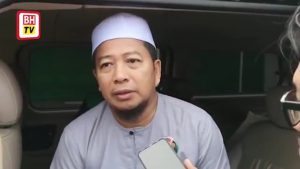 Isa Samad, the only local among the seven candidates had turned up to cast his ballot with his four children at a polling centre in Linggi, a state seat he had held for four terms back when he was the chief minister of Negeri Sembilan. His arrival at the polling station was grand at it was accompanied by a group of four cars with purple chairs on the roofs of the car. Isa Samad's symbol for this by-election had been that of a chair, a symbol he had claimed clearly portrayed his steadfastness. The official tally of votes had Isa Samad with 4,230 of the votes. The veteran politician conceded defeat, saying this loss was only one against nine he had won during his many years as a Barisan Nasional candidate.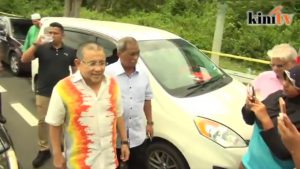 The other four candidates that had contested in the by election are Mohamad Saiful Bukhari (82 votes), Stevie Chan Keng Leong (337 votes), Kan Chee Yuen (154 votes)and Lau Sek Yan (214 votes). As per the Election Commission's ruling, candidates must have won at least one eighth of the total votes otherwise they would have to forfeit their RM 15,000 deposit which had been paid on nomination day.
And so the people of Port Dickson celebrate the new member of parliament they had voted to represent at the federal level and Malaysia welcomes its next prime minister.Follow us on Social Media
Send in your scoops to news@theindependent.sg