In Melaka recently, Linda Chung who is a former Hong Kong TVB actress paid tribute to the Peranakan culture by dressing in a beautiful kebaya.
Chung, 35, shared about her days as a TVB actress where she gained a strong fanbase in Malaysia in a Facebook post.
"I've formed an amazing, strong relationship with my fans. Although I don't come back as often anymore, this is a day to remember.
Chung said she feels closer to Malaysians and that she is grateful that everyone treated her as a friend, family member that is accepting and supportive during every stage of her life.
Traditionally, Peranakan women don the Nyonya kebaya as a costume. There are other versions of the outfit that features Chinese motifs or hand-painted silk.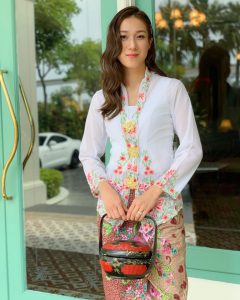 The Forensics Heroes star's Malaysian fans took to social media to give praise to the actress' beauty and that she looked amazing in the Nyonya kebaya outfit.
Jessica Yang, one of the fans said Chung looked well-matched in the kebaya while another fan, Grextce Tan said the Hong Kong star looked charming in the local traditional wear.
As part of promoting the skincare line Bio-essence where she is the celebrity ambassador, Chung made a trip to Melaka.
In 2018, Chung ended her contract with TVB and is focusing on being a mother to her two children.
Linda Chung signed a long-term contract with TVB in 2004 after winning the Miss Chinese International title.
The Chinese-Canadian actress and singer released four studio albums as a singer, Dinner for One, World for Two, My Love Story, My Private Selection and Love Love Love.
She was born in Canada with an older brother and sister.
Her education history includes Vancouver's Templeton Secondary School then followed by studying education at the University of British Columbia for two years.
In 2002, she won Miss Crystal Cover Girl which is hosted annually by Crystal Mall, an Asian-themed shopping centre beside Metrotown, Burnaby.
The following year, she won the title of Miss Chinese Vancouver and three other awards which led her to win the Miss Chinese International Pageant 2004 in Hong Kong. /TISG