When 'doing good' is part of your business ethics, you continually find ways to help the less fortunate. Yummy Mummy, a food stall business with a history of unusual generosity and kindness, has found one more way to help the less fortunate—by giving a 50 percent discount for vegetarian meals to cleaners and housekeepers near their stall in Shenton Way.
On Tuesday, Yummy Mummy posted about this practice on their Facebook page, something they've been doing for nearly two years. In the comments to the post, they said that if it were possible, they would give the food to the cleaners for free.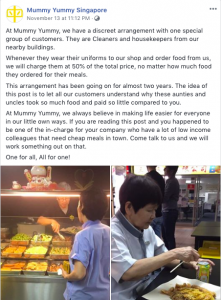 "At Mummy Yummy, we have a discreet arrangement with one special group of customers. They are Cleaners and housekeepers from our nearby buildings.
Whenever they wear their uniforms to our shop and order food from us, we will charge them at 50% of the total price, no matter how much food they ordered for their meals.
This arrangement has been going on for almost two years. The idea of this post is to let all our customers understand why these aunties and uncles took so much food and paid so little compared to you.
At Mummy Yummy, we always believe in making life easier for everyone in our little own ways. If you are reading this post and you happened to be one of the in-charge for your company who have a lot of low income colleagues that need cheap meals in town. Come talk to us and we will work something out on that.
One for all, All for one!"
Yummy Mummy, which was founded by 4 longtime friends, told The New Paper in April what may be their philosophy:
"We realised that a lot of things go on behind the wealth in Singapore, that poverty exists and we believe in doing good."
The company has three food stalls, at Shenton House, Ang Mo Kio and Tampines, but also gives away food for free to 159 rental blocks across the country at least once a month, starting from when the founders began to bring vegetarian meals to the elderly in Chinatown.
To date, Yummy Mummy gives free food to around 30 people every day.
Annie Chan, who is now a second generation owner of the business, says that a needy elderly person can just walk up to any of their stalls and receive food without paying for it. While regular patrons pay standard prices, Yummy Mummy also sells food packets for $1 to the less fortunate.
In April the company began a free buffet every month for more than 70 elderly people at Kebun Baru community club.
Netizens responded to Yummy Mummy's post with appreciation and gratefulness:








Read related: Hawker's daughter and Makansutra founder tell authorities to stop treating hawkers as though they are unintelligentFollow us on Social Media
Send in your scoops to news@theindependent.sg