His Royal Highness, Crown Prince of Johor Tunku Ismail Sultan Ibrahim made use of social media to express his horror at child marriage. In a tweet dated 22 Sept, the prince wrote, "Making legal age of marriage for girls to 14? What the hell is happening to this country? Absolute madness!"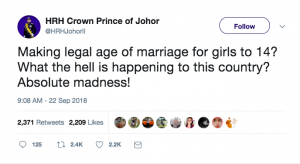 The tweet was apparently in response to a cleric in Sabah, who said that young girls of 14 could be legally married.  The cleric, Sabah Mufti Datuk Bungsu, is calling for the legal age for marriage to be lowered in order to follow Shariah law. This would mean boys could be married at 16 years old, and girls at 14 years old.
This year, because of continuous controversies concerning child marriages, the federal government of Malaysia plans to standardize the age citizens are allowed to get married to 18 years old for both males and females.
For non-Muslims in the country, males and females must already follow the minimum marriageable age of 18. However, a 16-year old female who is not Muslim may be allowed to marry with permission from the mentri besar or chief minister, the state's head of government.
No minimum age exists for Muslims who wish to marry. But under state Islamic laws, males have to be 18 and females 16 in order to be allowed to wed. Shariah courts, however, possess authority to grant permission for underage males and females to get married.
His constituents urged him to take action.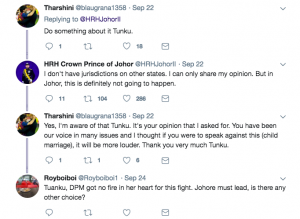 Many more agreed with Sultan Ibrahim than with the cleric.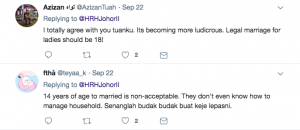 Follow us on Social Media
Send in your scoops to news@theindependent.sg