Former presidential candidate Tan Kin Lian took to Facebook earlier today to poll his Facebook friends and Singaporeans as to their thoughts on who would make a better Prime Minister. His poll comes just as the chosen leader of Singapore's fourth-generation team, and the man likely to be the next prime is set to be named as the party's first assistant secretary-general tonight.
According to local media reports, the People's Action Party (PAP) is said to likely name Finance Minister Heng Swee Keat as the next Prime Minister (PM) and successor of PM Lee Hsien Loong.
Reports have also said that Trade and Industry Minister Chan Chun Sing, 49, will serve as second assistant secretary-general, with Health Minister Gan Kim Yong, 59, the party chairman.
https://www.facebook.com/kinlian/posts/2324008921005080?__xts__[0]=68.ARCpe18o-wILv3thj6YneCwhocrjnF7dhW-rdK_lAPvNpZMq7cHhzCHjyph4ZBxuC5I-b7_TZWRwtz1DsaZNgLb901MmE74PZILjIl1TDGE-brMPWscI_49CcEDq33FcBReoAo32F4lvccdQGrJZiVfNfzVbHaI-lzOOpQCR01jqUFYqKElD28NEMmQ5H7S6D-7vxZ5nZnpY86vqWaL8EGR4GNSAZZsyGI6rjBrRNbAT6Ma5Rum-lJR8I6qZ3Jf1e0BnewpI9sWN_SP_zYerslbzltSCN-F1zkextLtw-DncCAX1l67SEZ4Lc7CWJVlFTwVyMIatK7k1cYcemFF_t3qkFydFzxMsRg&__tn__=-R
In his Facebook post, Mr Tan asked, "Who will be a better prime minister?", with netizens choosing between either 'Heng SK' and 'Chan CS'.
According to the 325 who voted, 88 per cent voted for Mr Heng, and the remaining 12 per cent supporting Mr Chan.
However, many of those who commented said "None of the above", with some saying Secretary-General of SDP Chee Soon Juan should be PM, and others going so far as to nominate Prime Minister of Canada Justin Trudeau.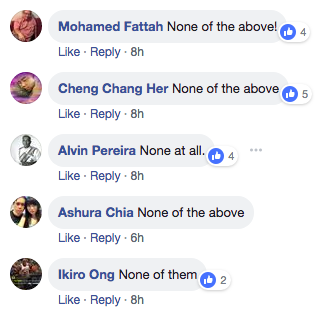 TISG reached out to Mr Tan as to who his pick for PM is, but he declined to comment.
https://theindependent.sg.sg/just-in-heng-swee-keat-likely-singapores-next-pm/
________________________________________________________________________
obbana@theindependent.sg
Follow us on Social Media
Send in your scoops to news@theindependent.sg