During Secretary-general of the Singapore Democratic Party (SDP) Chee Soon Juan's National Day Message, he touched on issues such as the rising cost of living, an aging population and the declining value of HDB (Housing Development Board) flats.
Dr Chee said that Prime Minister Lee Hsien Loong "upped water prices by an incredible 30 percent, raised car park charges, hiked electricity and gas rates, added more ERP gantries and upped ERP rates, increased university fees, inflate Service and Conservancy Charges, introduced compulsory Careshield payments. And soon, he is going to raise the GST to 9 percent".
In order to deal with rising costs, he suggested that the Government use the "surplus of $10 billion in taxes" in collected in 2017, to offset increasing costs.
Dr Chee continued, "Then there is the hundreds of billions of dollars – some experts estimate that it could be as much as a trillion – in our reserves. Again, common sense asks: Is there a need to raise the GST and other fees when you already collect more than you need?"
In response to Dr Chee's suggestions, former Nominated Member of Parliament (NMP) Calvin Cheng had his own thoughts.
https://www.facebook.com/calvinchengnmp/posts/1960562553993811?__tn__=-R
In a Facebook post yesterday evening, he said, "If we fix prices and subsidise the external increase to us (we import energy), ALL Singaporeans will be subsidised. RICH Singaporeans will be subsidised the MOST because big houses use more electricity and water".
He then continued, "So better we increase to market rate and ONLY subsidise poor Singaporeans with U-SAVE vouchers etc. Richer Singaporeans should quite rightly pay the market rate".
Cheng ended his post schooling SDP's Secretary-General saying, "So Chee Soon Juan – good governance made simple for you. Opposition so long already still don't know. Tsk."
Netizens seemed to agree with Cheng's thoughts.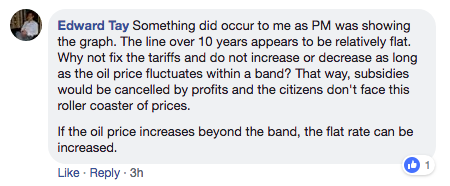 ________________________________________________________________________
obbana@theindependent.sg
Follow us on Social Media
Send in your scoops to news@theindependent.sg