Ruling party leader Lim Swee Say has allegedly converted to Catholism and changed his name to Francis Lim Swee Say, according to certain sources.
Lim formerly served as Manpower Minister until the last Cabinet reshuffle a few months ago, when he handed his portfolio to Josephine Teo.
Yesterday, noted socio-political commentator and president of human rights advocacy group MARUAH, Leong Sze Hian wrote on Facebook: "From the grapevine: Ex-Minister recently converted"
Leong's post set netizens abuzz which speculation about which ex-Minister could have converted to what new ideology.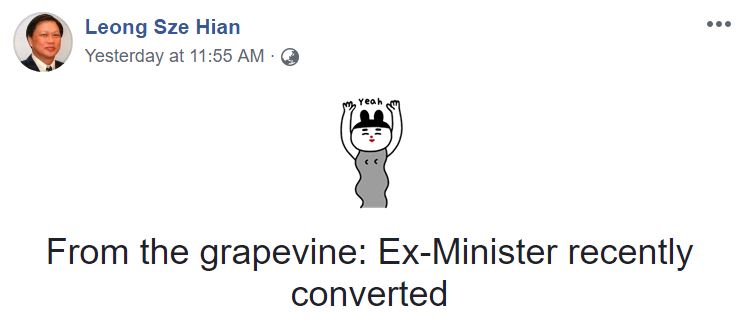 As some questioned whether the alleged conversion had to do with religion or a ruling party leader converting to the opposition, Facebook user Lucas Godfrey leaked a private "friends-only" post from an individual named George Teo, who congratulated Lim for converting to Catholicism.
In his post, Teo wrote: "Congrats to Francis Lim Swee Say (former Manpower Minister) for becoming a catholic. Welcome home. God bless." The post appears to have garnered at least 262 reactions on Facebook: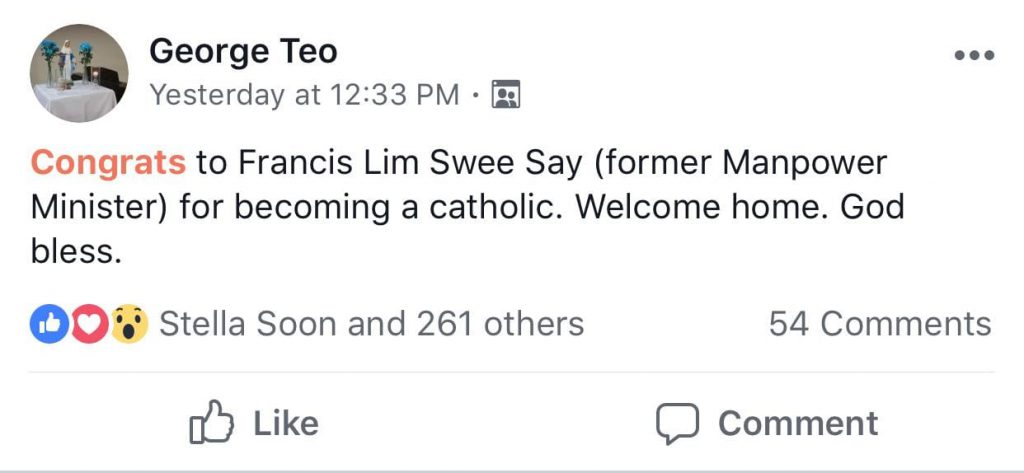 Lim was elected into Parliament as part of founding Prime Minister Lee Kuan Yew's Tanjong Pagar GRC in a walkover, in the 1997 General Election. Lim was again elected as part of the PAP's Holland-Bukit Timah GRC unopposed via walkover in the 2001 and 2006 General Elections.
The parliamentarian quickly climbed up the ranks of the Government and became a full Cabinet Minister in 2001. During the 2011 General Election, Lim faced opposition for the first time when the East Coast GRC team he was a part of faced off with the Workers' Party.
The ruling party team narrowly won the ward with 54.8 per cent of the vote compared to the opposition's 45.2 per cent. In the 2015 election, the ruling party's East Coast GRC team went head to head with the Workers' Party again and emerged the victor with better results of 60.7 per cent of the vote compared to the opposition's 39.3 per cent.
Lim, who took on the Manpower Ministry portfolio in 2015 after an 11-year stint in the Prime Minister's Office and an 8-year stint as leader of the labour movement, retired from the cabinet on 1 May 2018. He remains a PAP parliamentarian.
Follow us on Social Media
Send in your scoops to news@theindependent.sg