You can now literally fold up your phone and put it away with Samsung's new foldable phone. Released on February 20 at the Galaxy Unpacked event, the phone will be officially launched in the United States on April 26.
Priced at $1,980 (S$2,676), it comes with a free pair of Samsung's new wireless earbuds and will be available in an LTE and 5G version. The next market in line is Europe with a target launch date of May 3 and a starting price of 2,000 euros.
The specs
The Galaxy Fold is harnessing a new 7.3-inch Infinity Flex Display which allows the phone to have a tablet-sized screen that can be folded in half and fit into a pocket. The expanded version has a QXGA+ resolution (4.2:3) and becomes a smaller 4.6-inch HD+ (12:9) display when in phone mode.
The phone has 512GB of Universal Flash Storage 3.0 (eUFS) capacity for heightened processing speeds and uses a Qualcomm 7nm octa-core processor and 12GB of RAM. With that much power, Samsung has built in two batteries into the phone to compensate.
As for the fold, Samsung has created a sturdy backbone through a hinge system with multiple hidden interlocking gears.
According to Samsung, it can be folded at least 200,000 times which means around 100 folds a day for five years if you plan on using the phone that long.
The Galaxy Fold has a triple-camera system located at the rear of the device which consists of a 16-megapixel ultra-wide camera, a 12-megapixel wide-angle and telephoto camera, and a 10-megapixel front camera for selfies.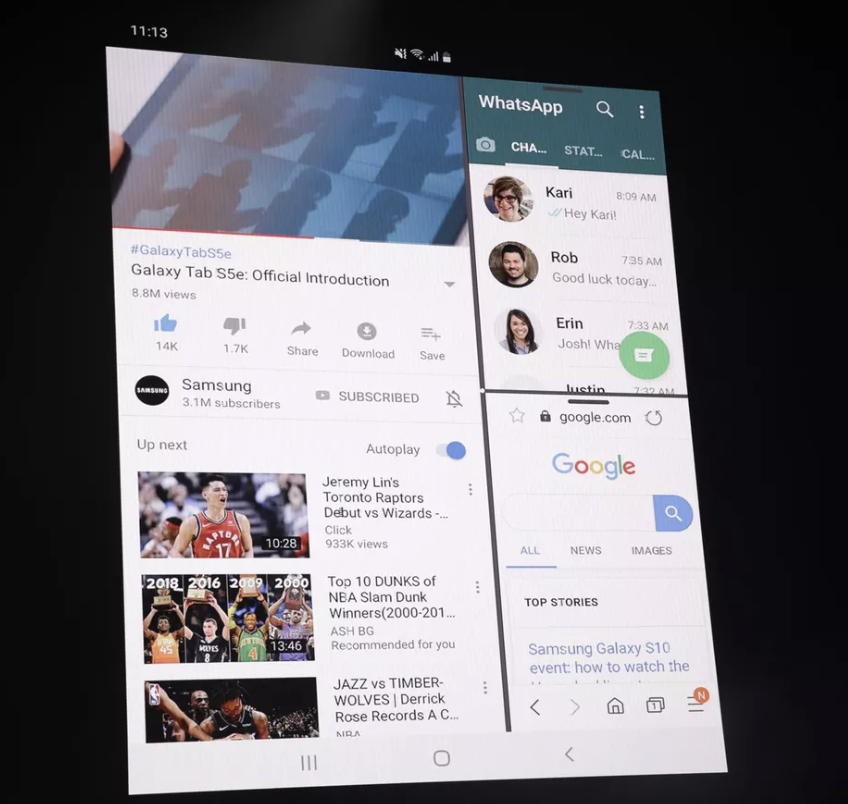 Samsung has been working very closely with Google to seamlessly allow up to three apps to be used at once. It is using an app continuity system to ensure the smooth retention of data and transition between phone and tablet modes. The Android 9 Pie is being developed to fully support this capacity.
Catch a glimpse of the Galaxy Fold in action below:
The All-new Samsung Galaxy Fold 2019! #SamsungEvent pic.twitter.com/q5HP3m9i1Y#SamsungEvent #GalaxyFold

— Alphidius at #SCNY19 New York ?????? (@AlfidioValera) February 21, 2019
Smartphone companies have been in the game to create the first fully-functional foldable phone which is the latest goal in smartphone innovation. We have Xiaomi's teaser of its foldable phone below which looks like the best concept so far yet no details have been released about the prototype.
https://theindependent.sg.sg/sneek-peek-new-completely-foldable-xioami-phone-in-development/
Others in the race are Huawei, who is said to release its foldable phone this year, and Lenovo, who started creating its prototype. LG has also been developing its flexible OLED displays so we can be sure to have more of these foldable phones in the near future.Follow us on Social Media
Send in your scoops to news@theindependent.sg