Update from Ottercity: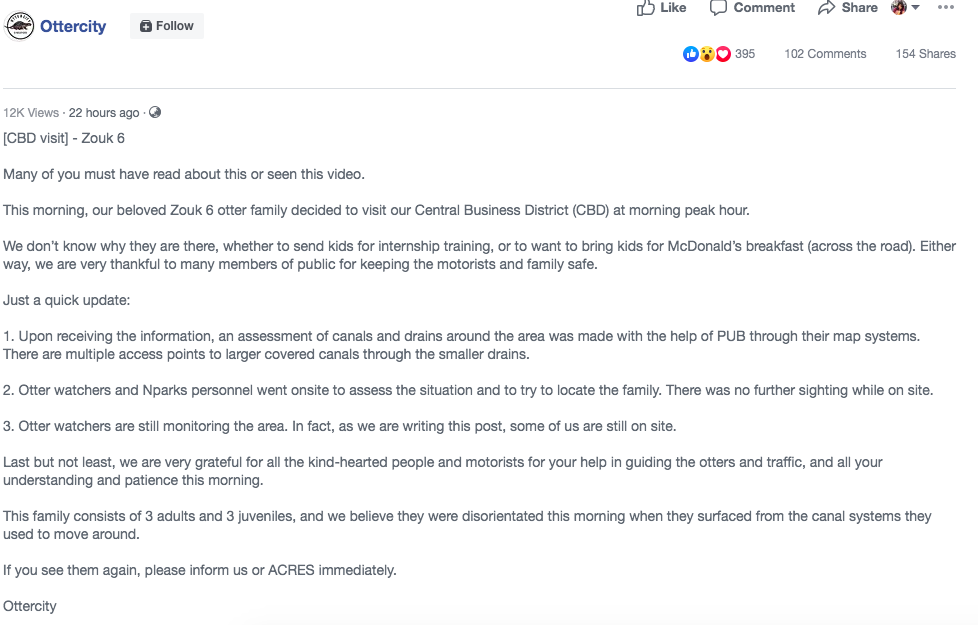 1. Upon receiving the information, an assessment of canals and drains around the area was made with the help of PUB through their map systems. There are multiple access points to larger covered canals through the smaller drains.
2. Otter watchers and Nparks personnel went onsite to assess the situation and to try to locate the family. There was no further sighting while on site.
3. Otter watchers are still monitoring the area. In fact, as we are writing this post, some of us are still on site.
________________________________________________________________________
A video of a group of otters running around at Shenton way has gone viral after being widely circulated on Whatsapp Messenger and social media.
The family of about five or so otters seemed to be rather lost and were running on the first lane of the road. Security guards nearby also started directing traffic to avoid any collisions.
Many passers-by were seen taking photos and videos of the otters, with one girl in the video yelping and running away from the animals.
The widely circulated video was reported to have been taken earlier today, but its origins are unconfirmed.
TISG has reached out to ACRES, the Animal Concerns Research and Education Society (Singapore) for further comment on the incident. /TISGFollow us on Social Media
Send in your scoops to news@theindependent.sg