For the ever-busy workers in the Marina Bay area, it's become a little more convenient to order food. Yes, delivery services abound, but for those who want to pick up their food from one point to the next, a cashless initiative by DBS called Foodster is the solution.
Every Botty, a chatbot developer, is behind Foodster. It allows Messenger users to order food from seven restaurants, and pay for their orders via DBS Paylah! or their DBS/POSB card. After fifteen minutes or so, they can head to the eateries to collect their food.
Read more: More e-payment programs in line with PM Lee's 'going cashless' initiative
The following establishments are now on Foodster: Gemstar, Kopi Ong, Local Coffee People, and Old Tea Hut, and the eateries Omnivore, Nude Seafood and Subway. By 2019, Kopitiam at the new Funan mall is expected to join the Foodster roster as well.
Netizens open the Messenger app, choose the restaurant or cafe or their choice, and then type in its name, followed by "Foodster." For example, "Nude Food Foodster."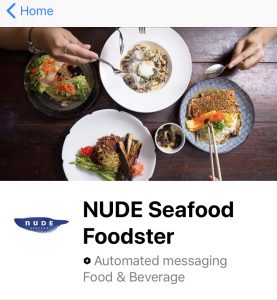 The eatery's offerings are presented in a customizable menu. Netizens choose their orders and then pay. For added convenience, the app remembers the customer's previous orders, streamlining the process even further. Customers are also offered the establishment's discounts and promotions.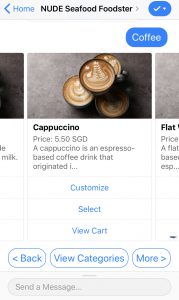 One advantage of the program is that customers do not need to download a separate app, as explained by Jeremy Soo, head of consumer banking for DBS. "App fatigue" is a recent phenomenon noticed by DBS.
The location for this pilot project is particularly appropriate. "The Marina Bay area was a good testbed — there are working adults around who are mobile-savvy, and use mobile banking apps.
Foodster can help merchants deal with the surge in customers during peak periods. Some customers see queues and are turned off, too."
The owner of Kopi Ong, Alfred Tan, is pleased that sales in his shop have grown by 20 percent and that he has not needed to hire additional staff. Lines in Kopi Ong used to be very long, filled with as many as 40 people each morning. Because of Foodster, customers can just order through their mobile phones and pick up their orders without waiting.
Mr. Soo says that DBS is snatching for food areas with high traffic in peak areas for expanding Foodster's services. The chatbot market in the Asia-Pacific is growing by leaps and bounds, and by 2024 is expected to bring in revenues of S$350 million, more than eight times of the figure from last year.
Related: Under PM Lee's 'going cashless' scheme, Nets might now solve the problem of e-payments at hawker centres
Follow us on Social Media
Send in your scoops to news@theindependent.sg