Ineza Roussille, a granddaughter of Malaysia's Prime Minister Dr. Tun Mahathir Mohammad, together with a team, has made a documentary telling the story of last year's General Elections (GE14), one that "promises to be a story of power, reconciliation, and hope," according to the film's website.
The film's website says, "M for Malaysia documents the 2018 Malaysian General Elections when the people of Malaysia, led by a 92 year-old former Prime Minister, overthrew one of the longest ruling governments in the world. Despite endless barriers thrown at them, the tense campaign pushed on with the most surprising result in the country's history."
Rousille and Datin Dian Lee produced and directed the film, M for Malaysia, and were joined by with Datin Paduka Marina Mahathir, the movie's executive producer, Ruby Yang, its creative producer, Sebastian Ng, the editor, with music composed by Rendra Zawawi.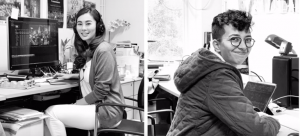 The trailer for M for Malaysia, which can be found here, highlights Dr. Mahathir's journey in winning over former Prime Minister Najib Razak, calling the victory "the greatest political comeback."
It touches on the 1MDB scandal, what it terms as Najib's "kleptocracy," and the growing discontent of the Malaysian people with the former BN government and their clamor for change, with the country's opposition groups uniting under 93-year-old Dr. Mahathir.
Roussille and Lee released the following statement:
"On May 9, 2018, Malaysia voted out a government that had been ruling the country since independence in 1957. Tun Dr. Mahathir Mohammad led the opposition to an unlikely victory against a corrupt government and became the oldest democratically elected Prime Minister in history.
Witnessing the election campaign was an unforgettable experience, not just because we were alongside Mahathir during the campaign but also because we were extremely moved by the people of Malaysia – how they showed up in huge numbers at the election rallies, how they organized themselves to help one another to vote and how determined they were to change the government. We went from having little hope to making history."
Roussille had the opportunity to follow Mahathir during the campaign period and said she was deeply moved by the people's support for her grandfather.
She said, "Being his granddaughter, I will have an inherent bias in telling this story. However, I hope we've been objective enough that all Malaysians can be proud watching this documentary and the new Malaysian government will remember that power is ultimately with the people.
Now I can say with confidence that I'm so glad I joined the campaign and got to experience such a historical moment with my family. To be able to see my grandfather working day in and day out, how he carried himself, how concerned he was with everything that was happening, and how he was determined to make it all right again, I couldn't help but admire that.
To witness the love and support between him and my grandmother, how she stubbornly stood by his side throughout, made me so grateful. It was just an unforgettable experience."
As co-director and producer, Lee said she hoped the documentary would remind her countrymen of how much power they have.
"They must not take this victory for granted and deliver a better Malaysia to its people. I also hope this film will remind my fellow Malaysians that we can make a difference, our voices and votes do matter."
She has said that the campaign period was something she will never forget. "It was also because we were extremely moved by the people of Malaysia — how determined they were to change the government."
Read related: Malaysia's Elections, iPhones XS, Black Panther, Stan Lee, the World Cup…Singapore's biggest Google searches for 2018
https://theindependent.sg.sg/malaysias-elections-iphones-xs-black-panther-stan-lee-the-world-cupsingapores-biggest-google-searches-for-2018/
Follow us on Social Media
Send in your scoops to news@theindependent.sg