Malaysian Prime Minister Tun Dr Mahathir Mohamad asked reporters to show him a video reportedly showing a Malaysian federal minister having homosexual intercourse.
At a press conference earlier today, Dr M said, "I am not aware of this, I just heard so I need to read about it"
Much to the laughter of other ministers present at the press conference, he told members of the press, "You can brief me about it".
According to Malay Mail, a series of short videos lasting roughly 1.34-minutes have been circulating on Whatsapp chat groups. The clips show two men, one of whom resembles a minister in the current administration. The men also look like they are in a hotel room.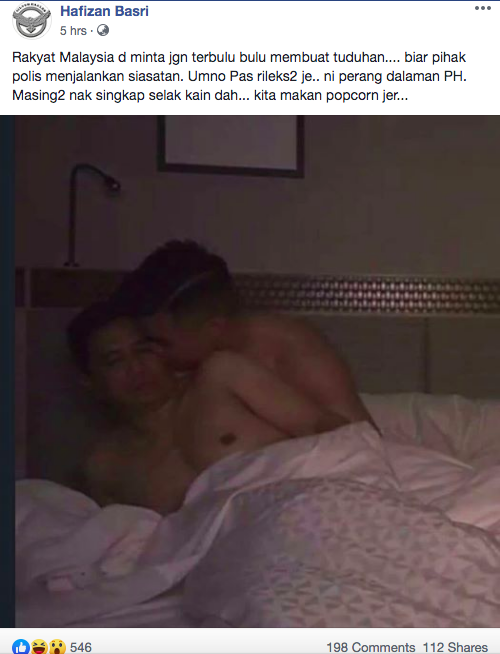 Malaysian Minister target of sex clip campaign?
A cabinet minister has allegedly been the target of a smear campaign, says another portal.
At about 1.25am this morning, several Malaysiakini reporters were added into two WhatsApp groups where the video clips were shared.
While Malaysiakini is unable to establish the authenticity of the video clip, a person named 'Faizal' added Malaysiakini staff and several notable Sabah People's Justice Party (Malay: Parti Keadilan Rakyat /PKR) leaders as group participants.
Another WhatsApp group was initiated by 'Saifuddin Abdullah'. This group had participants who were mainly journalists.
Malaysia's Foreign Affairs Minister Saifuddin Abdullah, who is also a PKR member, stressed that he was not behind the Whatsapp group.
He told the media, "The said person is masquerading around in the WhatsApp groups and we will let the authorities investigate this matter".
Another sex video circulating in 2011 was linked to then-opposition leader Datuk Seri Anwar Ibrahim.
The latter denied that he was the man in the Feb 21 sex video revealed to journalists earlier Monday.
"I sternly deny this scurrilous attack", he said, adding that he was at home with PKR staff, his wife, children, grandchildren and tweeting on that day and at that time./TISGFollow us on Social Media
Send in your scoops to news@theindependent.sg