Update: It seems the Ministry of Manpower (MOM) is looking into this issue. They have contacted the photographer, as well as a number of Facebook groups who shared the image, and have asked for information.
A viral photo of a domestic helper who was made to sit at the walkway outside a restaurant while her employers dined inside has sparked much outrage amongst Singaporeans.
Her photo circulated online and caught the attention of Malcolm Conlan, a British blogger, who wrote Prime Minister Lee Hsien Loong an open letter to bring to light her plight.
https://theindependent.sg.sg/photo-of-domestic-helper-sitting-at-the-walkway-outside-restaurant-while-employers-have-a-meal-goes-viral/
The photo was taken outside a Chinese restaurant, by a 38-year old netizen who wished to be anonymous. The photographer watched the couple and their helper arrive together, and the domestic helper sat outside while the couple had their meal inside the restaurant.
In his open letter to Prime Minister Lee, Malcolm wrote, "I am sorry to have felt the need to write to you personally, however I was absolutely shocked and saddened to see a photo online of a Filipina worker in your country, sitting outside a restaurant crouched down, almost treated like a dog who had been tied up outside and was waiting for its master to return and release it!!!"
He also griped, "I am totally dismayed by the way this lady had been treated. If the family could not afford to allow the Filipina to dine with them in the restaurant, then maybe they should question if they could afford to employ anyone at all?"
Malcolm then said, "I was utterly distressed to see this image of a Filipino citizen treated like this".
While the photographer himself was unable to confirm the race of the domestic helper, he added that she looked to be Indonesian. Nevertheless, Malcolm's intentions were for a different kind of treatment offered to these domestic helpers, with his and the photographers aims being the same.
He urged PM Lee to look into the matter and to ensure that such incidents did not recur, adding that the incident was an "outrageous abuse of human rights".
His post on Facebook garnered almost a 1000 shares and 1000 reactions from angry people.
https://www.facebook.com/photo.php?fbid=10155672669326524&set=a.10150218460386524.302345.723906523&type=3&theater
Many of those who commented seemed to be domestic helpers themselves and spoke of similar incidents they had encountered.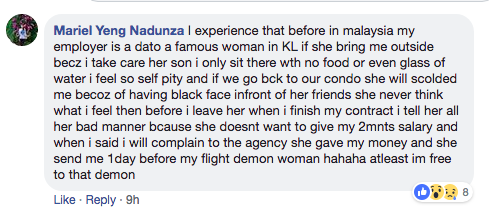 The entire incident raised the issue of how domestic helpers are treated, and if people should look inward and be kinder and more humane as employers.
________________________________________________________________________
obbana@theindependent.sg
Follow us on Social Media
Send in your scoops to news@theindependent.sg