Several devotees have expressed their gratitude to Law and Home Affairs Minister, K Shanmugam, and the Hindu Endowments Board (HEB) for providing them with greater freedom to play musical instruments during Thaipusam, this year.
According to a notice circulated by the HEB on guidelines for bhajan groups and singers this Thaipusam, it appears that the authorities are allowing music to be played for longer hours this year. Devotees can now play music from 7am to 10.30pm as opposed to 8am to 10.30pm as in previous years.
Besides this, devotees are also now allowed to add an additional hand held ganjira instrument during the procession along with an additional percussion instrument.
Devotees are also provided with 35 static music points, 2 live urumi melam points, as well as 1 live nadaswaram and thavil point.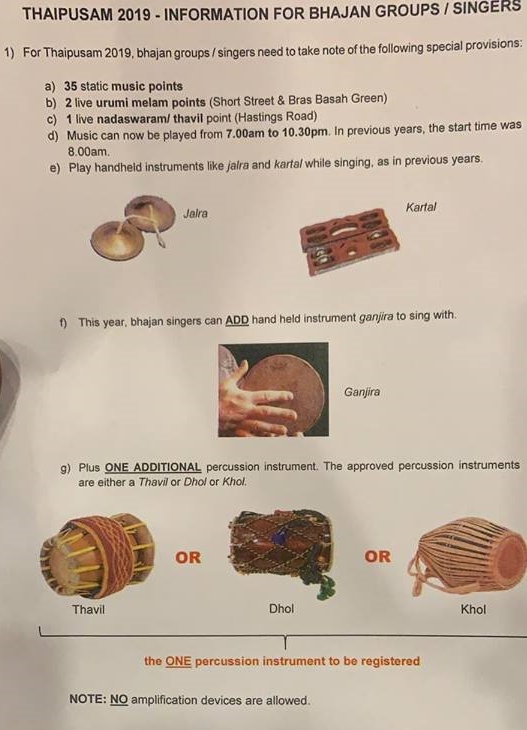 Expressing her gratitude to HEB and Minister Shanmugam for working together to give these special provisions to devotees this year, community leader Isaac Kanages said on social media: "Music is not just a part of the ceremony. Its almost everything for this auspicious ceremony. For the participants to accomplish the vows music is essential. Let's all value the chance given to us to uphold the divinity of this day"
The special provisions this year come after years of protests and petitions by devotees who have asked the authorities to allow them to play music as they take part in the Thaipusam rituals.
Skirmishes between devotees, police officers and the HEB during processions in years past have also added tensions and several members of the Indian community have urged the authorities to give them more freedom to complete the procession properly.
Thanking those who worked with her to achieve the new freedoms that the HEB has given devotees this Thaipusam, Kanages added: "This is also the moment we have to thank all the individuals and the groups who stepped forward to work towards this to be implemented. Its a 42 year record…Bravo guys.
"People who stood by us when we worked towards this to happen. And also to the lovely Chinese lady Lin Shiyun who came forward to voice out even though she was a non Hindu taking this to an extra mile..just to be heard and not forgetting all the Facebook shares and petitions that were greatly supported. Unity is the most powerful tool or weapon to success."
Read her post in full here:
https://www.facebook.com/photo.php?fbid=10217995410254002&set=a.3066423776743&type=3Follow us on Social Media
Send in your scoops to news@theindependent.sg