David Beckham, the former soccer player, recently shared an adorable moment on Instagram involving his 12-year-old daughter, Harper.
In the post, he playfully mentioned that Harper acts as his "little makeup artist," ensuring he has the right powder and contouring.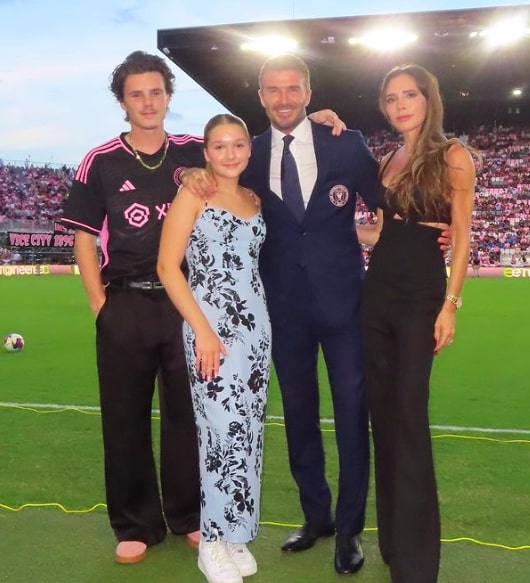 Beckham Makeup expert in the making
Harper may be following in the footsteps of her mother Victoria Beckham. The former Spice Girl member owns her own makeup collection. The 49-year-old had gone from being a Spice Girl to a world-renowned fashion designer. She launched Victoria Beckham Beauty in 2019.
The heartwarming father-daughter moment received praise from his Instagram followers, with many expressing love for their close relationship.
The former soccer player wrote on Instagram that 'daddy apparently needed a little powder & contouring.' The post garnered comments from his 81.6 million Instagram followers.
Close-knit family
Beckham and his wife, Victoria Beckham, have four children together: sons Brooklyn, Romeo, and Cruz, in addition to Harper. The social media posting occurred shortly after Harper, her mother, and her brother Cruz showed their support for David at Inter Miami's game versus Cruz Azul. David is a co-owner of Inter Miami and was celebrated by his family on Victoria Beckham's Instagram page after the team's victory.
Victoria Beckham took to social media to say how proud of her husband. Harper recently turned 12 and enjoyed celebrations at the Prada Caffè in Harrods department store in London and a visit to Walt Disney World. David Beckham also dedicated an Instagram video to his daughter on her birthday, expressing his love and admiration for her.
While Harper isn't on social media, Victoria Beckham has expressed concern about the impact of body shaming on young people, especially as they grow older and become more exposed to social media. As parents, they aim to communicate openly with Harper and ensure she surrounds herself with supportive friends to counteract any negative influences.
Read More News
The post David Beckham lets his 12 year old daughter do his makeup appeared first on The Independent News.