Well, someone believes in leaving poop where you shop. A video posted on the Facebook account of ROADS.sg on Monday, September 24, has been viewed more than 137,000 times, despite its crappy content.
Or maybe because of its crappy content.
The poster, identified only as TP, said that the man who left the diaper is a Caucasian. "Male Caucasian driver of SJS1896G dumping soiled diaper on my car at Vivo City B2 carpark (23 Sep 2018 at about 2 pm)."
He also wrote, "Take your kiddo shit home and be respectful to others, shame on you and your wife for doing this." 
TP also mentions the man's wife since both he and she are seen to return to the vehicle with an infant. The woman stares at the diaper on the hood of TP's car for a few seconds, and then looks away without doing anything, leaving TP to take the diaper to the trash.
At the beginning of the video, the man looks around for a bin to throw the diaper into, and does not find one. He looks first to see if someone is in the car where he leaves the diaper, and seeing none, just puts it there. Unbeknownst to him, a dash cam catches his actions, and his face can be seen clearly as well.
https://www.facebook.com/Roads.sg/videos/2181118625495323/
Netizens had a field day with the post, especially since it was unfortunately a foreigner who had done the dirty deed. Netizens extended their ire towards the government, for allowing so many foreigners to come to the country in the first place.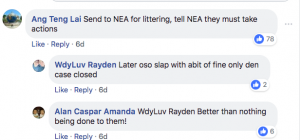 Another netizen argued that the incident had nothing to with foreign talent or the national government, but is a reflection on the person's flawed character.

Follow us on Social Media
Send in your scoops to news@theindependent.sg