Criticism about foreigners in Bukit Batok appears to continue unabated online. This time, netizens are pointing out that the majority of social media users who comment on Bukit Batok MP Murali Pillai's Facebook page are foreigners.
Indeed, it appears that many netizens commenting on the ruling party politician's Facebook page over the past couple months are residents from India.
Opining that Bukit Batok has become the new Little India, one netizen Mohamed Ali shared one of Pillai's Facebook posts and wrote: "Everytime he post something, many Indians from India will comment…When you look around in Bukit Batok, you can see Indians FT everywhere. Most of the houses are rented by them. Bukit Batok is the new Little India…"
Everytime he post something, many Indians from India will comment. When you look around in Bukit Batok, you can…

Posted by Mohamed Ali on Sunday, 8 July 2018
Just four months ago, Pillai drew the ire of Singaporeans after a misleading notice posted outside the Meet-the-People-Session of Bukit Batok SMC seemed to imply that a priority queue was available for Permanent Residents who would not need to queue.
The notice read:  "We would be grateful if Singapore Permanent Residents residing in Bukit Batok SMC who intend to attend MPS, please proceed to identify themselves directly at the registration country without the need to queue. Thank you."
After public scrutiny grew, Pillai confirmed that the notice was posted by MPS but clarified online that there is no priority lane for Permanent Residents: "The news is false. There is no priority queue for PRs, let alone Indian PRs, at our weekly MPS. Anyone who attends our MPS would know that this simply not true."
"The notice was put up in the queue area outside the Bukit Batok branch to allow Singapore PRs to be told upfront by the registration counter volunteers that for petitions to be written on their behalf, they would need to provide more details such as their Singaporean sponsors. Otherwise, they may have waited in vain."
He added: "It is sad that someone has twisted the facts for his own reasons and, at the same time, tried to inflame race relations as well." and noted that the notice was left behind after the MPS leading to the person taking a photo of it and making the false and misleading claim.
"We believe though that the person who made the post fully knows this fact. Nonetheless we will not be deterred and concentrate on serving our residents."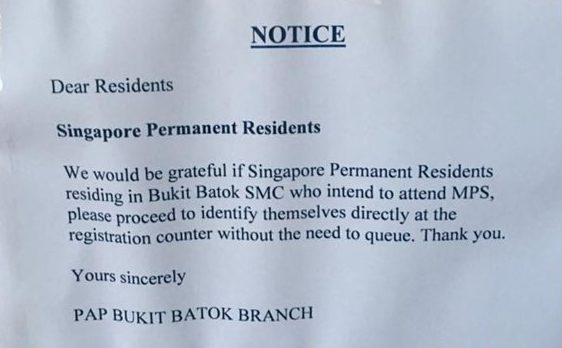 Follow us on Social Media
Send in your scoops to news@theindependent.sg