The video of Sergeant Desmond Heng, rescuing and arresting a molester in Rochor Canal has viral, and the 25-year-old police officer has gotten a lot of praise from netizens. Many wholeheartedly commended him for his heroic actions.
However, he was not very happy with the way he looked in the video. "My hair was just in a mess," he said. He also said he thought he looked very ugly.
Several officers responded to a call for help at Our Lady of Lourdes Church on Ophir Road on Saturday afternoon. The 26-year-old suspect, who had injuries to his face, was lying in a drain face up not far from the church.
The man did not heed the officers instructions to come to them, but began to go in the opposite direction toward the entrance of the canal. Observing that he moved awkwardly, they suspected that he was intoxicated, a fact confirmed later on.
Sergeant Heng, a relative rookie who had only joined the SPF five months ago, entered Rochor Canal upon instructions from his chief, calling out to the suspect to listen to him. He said, "Our priority was… to save his life, whatever risk there was."
He then swam to the suspect, who he said smelled of alcohol, was in a panic, and seemed to not understand English very well.
He then successfully swam the suspect to safety, despite the weight of his uniform as well as the currents in the water. The other policemen lifted the suspect out of the water, and after a short struggle, was held down and then taken to Tan Tock Seng Hospital.
He has been charged with abusive words against public servants, intentional harassment and drunkenness in public places, but is now out on bail. Investigations are ongoing.
Meanwhile, all it took for Sergeant Heng to go back to his duties that day was a fresh uniform. He praised the whole team for the rescue and arrest efforts, "I'm not very affected by the comments, negative or positive… I knew I had support, and I wish to let the public know that the police force will assist anyone who is in a dire situation or requires our assistance."
Netizens were quick to assure him that how he looked in the video did not matter.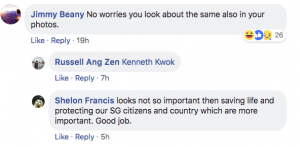 One netizen even praised him for his handsomeness.

Follow us on Social Media
Send in your scoops to news@theindependent.sg