Jingjun Ng took to Facebook on October 27 to recount an incident that happened at Block 419 Clementi Avenue 1 that afternoon. She says that while her domestic helper and their small child was out on the second floor of the block, the nanny felt moisture fall on her. When it happened more than once, she saw some young people on the third level.
The helper asked the youths why they spit on her, and one of them walked away. But one girl in a yellow shirt (as well as a leg tag) and a boy in a red shirt followed the helper and spit in front of her once more.
At that point she tried to walk away from them but they blocked her on either side. An older man sitting nearby who to intervene. They then escalated their harassment by threatening the uncle with a long metal ruler as well as kicking a trash bin. The old man tried to stop the youths and told the helper to leave quickly.
The helper, a woman from Myanmar, went home and told her employers about the incident. Jingjun Ng's husband confronted the youths, who denied the helper's story. He called the police to lodge a complaint, since spitting is an offence.
When the police heard about the incident they told the couple that the children are well-known in the area for bullying, and that they're received complaints about them before and have logged them into the system. However, the couple did not pursue charges against the youth.
Ms. Ng said that the young people reluctantly apologised upon instructions from the police.
When her neighbours heard about the incident, they told her that these same children had struck an elderly man in a wheelchair who lived on the fifth floor of their building, and then ran away. At the end of her post Ms. Ng wrote,
"To me, yes they are kids they will kena summoned these and that.. but why isn't anyone or "gov" try to educate them? Rather than keep giving them chances to stay here to keep bully and threaten other residents like if they own the place? Just want to give you guys some heads up and take a lookout on these "famous" kids.. And to the parents of these kids if you're here.. Please don't lose your kids just like that.."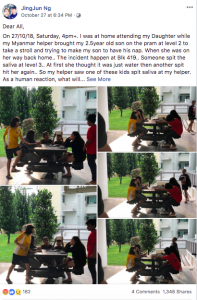 Netizens were outraged at the kids' behaviour. However, concerning how the children should be treated, commenters seemed divided into two camps, those who believe that they should be disciplined the old-fashioned way, such as with caning or strict juvenile detention, or at the very least, intervention from those in authority; 








and those who thought that underlying issues must be addressed, and therefore a softer, more compassionate approach should be taken.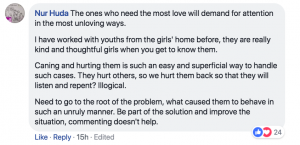 Some netizens drew attention to the fact that one of the offenders is already tagged.


Follow us on Social Media
Send in your scoops to news@theindependent.sg