Hong Kong celebrity Cecilia Cheung has been making so many trips to Singapore that some people said she should be named an honorary Singaporean by now.
She just visited the island-state and she is keeping it pretty low-key.
Based on clues in her Instagram Stories, the 39-year-old mum shared her day out on November 15 and someone recognised the place as Kiztopia at Marina Square.
Her son (most likely one-year-old Marcus) was spotted climbing about in a ball pit. Cecilia is seen taking some time to try her hand at one of the claw machines and she won a unicorn plushie.
Taking a photo with a fan, she wrote that the place is full of fun.
In April, the celebrity was in Singapore for her guest appearance at the Star Awards 2019.
Food was the first priority in mind for her and her companions.
On her social media accounts, there were photos of Cecilia eating a meal of roasted meat and rice while her companions ate bak kut teh.
It looked like the location was a dingy Kopitiam at Balestier which is famous for stalls selling roasted duck rice and mushroom minced meat noodles.
For the recent trip, Cecilia dug in on some Nyonya vegetarian cuisine at a restaurant located at Marina Square.
The star also shopped at Pedder on Scotts.
Cecilia celebrated her son Marcus' first birthday with friends, showing a clear partial view of his face.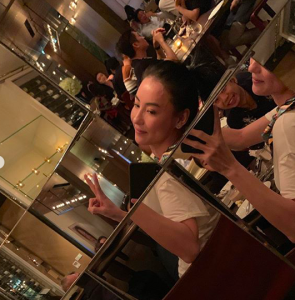 Cecilia has two sons other than Marcus – Lucas, 12 and Quintus, nine, whom she shares with ex-husband Hong Kong actor-chef Nicholas Tse.
Marcus' father's identity is unknown with Cecilia keeping her lips shut about it.
Media reports say Cecilia temporarily closed her fashion boutique in Central after the backlash on her social media post.
She had weighed in on the Hong Kong protests by posting a quote by Chinese president Xi Jinping.
Maybe the reason for the trip to Singapore was due to the hiatus of her business and Marcus' birthday?
Singapore is a familiar spot for her as she lived here for some time after her divorce with Nicholas in 2011.
In July, Cecilia brought Lucas and Quintus to Sentosa during their school holidays.