A report has surfaced saying the Barisan Nasional candidate in the Tanjung Piai by-election in Johor, Wee Jeck Seng, wrote a note on Facebook expressing the Malaysian Chinese Association's opposition to the Jawi, or Islamic calligraphy.
In the post, Wee had said: "MCA unites to oppose Jawi and defend Kolej Universiti Tunku Abdul Rahman, is that playing racial issues?" But the latter edited the words 'oppose Jawi' out of the post later on.
The Pakatan Harapan machinery is geared to hit the BN hard on the Jawi issue.
But the story by Malaysiakini has hit the BN coalition in a weak spot, with all its leaders now rallying towards the candidate to deny such allegations.
However, the internet can't lie, they say, though Malaysiakini was singled out yesterday in Johor at an MCA press conference. The party leader accused the portal of misquoting the candidate on his post about Jawi which was introduced in vernacular schools.
Malaysiakini translated the post which was written in Chinese into Bahasa Malaysia indicating the MCA's opposition towards Jawi.
The MCA is now saying Malaysiakini took the post out of context but the candidate edited the post afterwards, claims Malaysiakini, to omit the words "opposing Jawi".
The news portal posted both versions, the edited one and the original post which it says  can still be viewed as Facebook keeps a record of all edits.
Ex-PM Najib Razak has also defended the BN candidate saying the post was not edited, though this can be proven otherwise if one checks the edit history of the post.
The controversy does not seem to have a major impact on the surge of support for the BN candidate though.
Najib attracted a crowd of 5,000 at a rally on Wednesday night. The figure is out of reach of PH rallies which is drawing flak, reports say.
The by-election takes place tomorrow. Results will be in late in the evening. -/TISG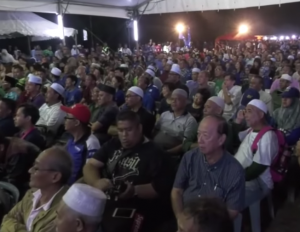 A view of the crowd at a BN rally in Johor
Send in your scoops to news@theindependent.sg