Taxi driver William Lee is finding the adage, "it is better to give than to receive," to be true indeed.
In the early morning hours of July 3, at SK East Drive and SK East Way junction towards Punggol East, he offered a young girl a free lift, as she was walking by herself to Punggol 21 Community Club to watch England play against Colombia in the World Cup.
He offered her a ride since he was concerned for her safety, and the area where she was walking was very dark.
No doubt the teenager was delighted and grateful, as she thanked Mr. Lee effusively. This really made his day, and it's quite possible that he ended up even happier than she was.
Mr. Lee wrote about his happy experience in a post on Facebook, in the page Singapore Taxi Driver, a public group.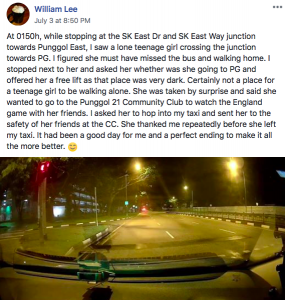 The cab driver's post has been liked and shared many times, with a lot of people praising him for his good deed to the young woman.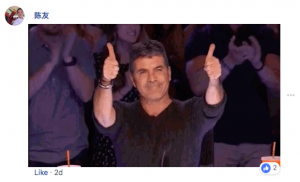 Follow us on Social Media
Send in your scoops to news@theindependent.sg